Genzyme Raises Thousands for St Nicholas' Hospice
Sunday, 9th December 2007.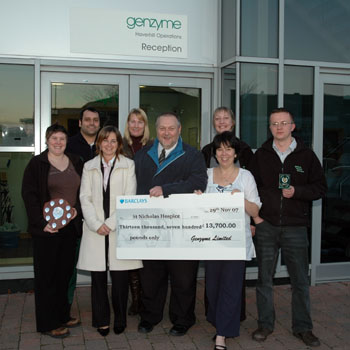 St Nicholas' Hospice, Bury St Edmunds recently received a cheque for £13,700 from Genzyme in Haverhill, marking the culmination of a fundraising challenge set by the organisation's operations across the globe. Donna Cathmoir, Matron at the Hospice, was presented with a cheque by Simon Cousins, Vice President and General Manager at a Genzyme staff meeting on Thursday, 29th November.
More than two thirds of Genzyme's workforce in Haverhill participated in the challenge, raising £6,500 locally and contributing over 230 hours worth of volunteering activity. Recognised as an unprecedented success by Genzyme's US headquarters, the sum was matched with a $15,000 grant from the Genzyme Corporation to support the efforts of the Haverhill team.
The endeavour was part of Genzyme's global volunteer programme – Genzyme Invests in Volunteer Efforts (G.I.V.E.) - which inspires its employees worldwide to volunteer for initiatives in their local communities.
Genzyme's Community Relations Team at Haverhill organised a month of fun and innovative fund-raising events during September, which included competitions, a charity auction and race night, sponsored bike riding, running and a football tournament. In addition, the volunteers spent their weekends working at the Hospice painting and decorating its interior.
The volunteered hours were a particularly valuable resource for the Hospice.
St Nicholas Hospice representative, Paul Abbott said: "We are extremely grateful to Genzyme for their fantastic support for St Nicholas Hospice. Their commitment has gone beyond the financial. Having raised a magnificent sum of £13,700, their staff showed their personal commitment by giving up their leisure time to help paint and decorate the Hospice. It is a privilege for St Nicholas Hospice to be associated with such a company as Genzyme. We hope this is the beginning of a successful long term partnership."
Barbara Gale, CEO at St Nicholas Hospice echoed his words: "It is always a pleasure to welcome help from local companies in whatever form that may come. But we rarely see fundraising and volunteering coming together in such a symbiotic way. Without the support of volunteers St Nicholas Hospice would not be able to run. The benefits and blessings of all these extra hours of volunteer time are incalculable."
Simon Cousins, Vice President and General Manager of Genzyme's Haverhill operations said:
"Providing support to the local community and making a genuine difference to people's lives is central to the Genzyme vision. Our employees have really taken this to heart, working together and devoting their time and energy in volunteering for this project. St Nicholas' Hospice performs a vital role in our community and we are extremely proud of our employees' efforts."
This achievement by the Haverhill Operation has been recognised as the most successful example of G.I.V.E.'s global volunteer effort to date.

Comment on this story
[board listing] [login] [register]
You must be logged in to post messages. (login now)