Genzyme staff bake cakes in aid of unusual sufferers
Monday, 28th February 2011.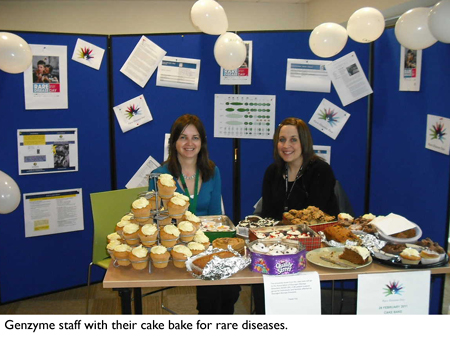 Staff at Genzyme in Haverhill today carried out a cake bake event to raise awareness for International Rare Disease Day.
The proceeds made from the sale will go to the Association of Glycogen Storage Disorders (AGSD-UK), a UK patient support group for individuals and families affected by Glycogen Storage Diseases.
The event is intended to highlight rare diseases as a public health issue, and to emphasise the growing need for access to information, research and treatment.
To mark the day, events have been taking place globally, with hundreds of patient organizations promoting awareness-raising activities around the slogan Rare but Equal.
In addition to its role in manufacturing the active ingredients for medicines to treat chronic kidney disease, Genzyme's Haverhill site is a major global distribution centre for the company's products, including its treatments for the rare genetic diseases, Pompe Disease, Fabry Disease, Gaucher Disease and MPSI.
Paul Logue, vice-president and general manager at Genzyme in Haverhill, said: "At Genzyme we are committed to improving patient lives and have long history of working in the rare diseases area.
"It is important to remember that while individual rare diseases only impact a small portion of the population, together there are 6,000 rare diseases affecting over 3.5 million people in the UK.
"At Haverhill we are proud to play a vital role in supplying patients who have rare diseases with the treatment they need in a quick and efficient way.
"We hope the event today can help increase awareness of the needs of patients with rare diseases and support Genetic Alliance UK in its invaluable work."

Comment on this story
[board listing] [login] [register]
You must be logged in to post messages. (login now)