George is strip off old block
By Jo Deeks on Thursday, 14th June 2001.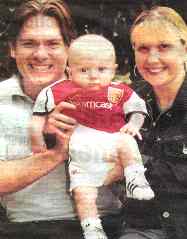 BABY George Armstrong is already following in the footsteps of his famous footballer grandad, as he dons a tiny Arsenal strip for his first public appearance.
Three-month-old George is named after his grandfather, the legendary Arsenal winger who later joined the club's coaching staff, and died last year.
George Armstrong senior lived at Great Abington and was well-known in the area. His son Tom, 32, lives in Haverhill and is operations manager at Haverhill
Leisure Centre
.
In August, proud father Tom will take young George along to the opening of the new £10 million Arsenal training ground at London Colney. They have been specially invited because the main youth and reserve team pitch is being named after George Armstrong senior.
"We are really pleased that they are doing it because it is the main pitch that all the youth team and reserves play on and that was what he did for the club," said Tom. "It is a really nice gesture because the pitch is something that will always be there.
"I have been to the new training ground and it is a massive place ­ you have to see it to believe it. The changing rooms have underfloor heating and two of the pitches have undersoil heating.
"There are a lot of Arsenal supporters in Haverhill and a lot of people know me and knew my dad. He was there for 17 years as a player and again for 10 years as a coach.
"He was spotted playing for his local team in Newcastle and made his debut for Arsenal at 17. He was on the first ever Match of the Day. It was his life, even when he was retired, it used to drive my mother mad," Tom said.
Tom's partner Sue was not a football fan before they met, but after going to one Arsenal game she became hooked too.
Tom has played local football for many years, but failed to follow his father by goin professional. His training too a setback wehn he was 16 and the family moved to Kuwait for his father to train the national team, where foreigners were not allowed to play.

Comment on this story
[board listing] [login] [register]
You must be logged in to post messages. (login now)