Giant north-east expansion is 'manageable'
Monday, 8th March 2010.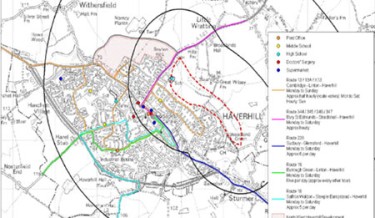 A transport impact study on the proposal to expand Haverhill by 25 per cent to the north-east says the idea is 'feasible', 'sustainable' and 'manageable'.
But it also says the whole town needs to be involved in a shift to lower car use.
It assumes a north-east relief road around Haverhill Golf Course would be part of the proposals.
The report has been prepared by AECOM, the
transport planning consultancy partner providing
support to Suffolk County Council. It was commissioned jointly by the county council and St
Edmundsbury Borough Council.
It is a review of the transport impacts implications of building 2,500 homes to the north-east of Haverhill, suggested in the latest regional plans now being prepared.
The review concentrates on two main aspects of the impacts: the way in which the development can achieve a high level of sustainable transport connections within the overall land use pattern, and the likely scale and location of specific car traffic impacts on the connections to the strategic road network.
In its conclusdions it says it has provided an initial evidence base which shows that the north-east Haverhill site is feasible in transport terms, with relatively modest transport infrastructure and facilities requirements.
The A11/A1307 junction (Four West Ways) is likely to need some minor changes to respond to the additional flows, and this has been allowed for. It is expected, however, that planned express bus services,also allowed for, would reduce, but not eliminate, the need for this.
The report says the proposed development can be managed in a sustainable way, with manageable impacts on the town and the trunk road (A11).
"The town as a whole needs to be involved in the shift to lower car use," the report says.
A north-east relief road would be provided as part of the development, linking the A143 Wrattling Road to Coupals Road, running round the north of the golf course.
Safety and environmental improvements are considered feasible, and would be needed on the existing roads linking to the A1017 Sturmer Road/Rowley Hill.
This local route would provide 'some limited diversion' from the town centre.
But the report says a more detailed traffic impact study would be required to design the necessary improvements at the eastern connection between the north-east relief road and the local road network.
* This map, drawn from the report, shows the site in question outlined in red dashes, and the town's current bus routes, which would have to be improved to achieve the lower car use required.

Comment on this story
[board listing] [login] [register]
You must be logged in to post messages. (login now)