Girls storm into national semis
Thursday, 16th March 2000.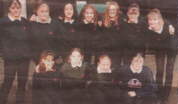 CASTLE Manor Girls under-16 football team have made a fine start to their first season together by reaching the semi-finals of the English Schools Norwest Co-op Cup.
What makes their achievement even more remarkable is the fact that only one player is actually in the under-16 age group, with five under-15s and seven under-014s.
Nine of the girls are members of the successful Haverhill Rovers teams, but this is their first season playing together for the school.
Jackie Williams, the Castle Manor PE teacher who runs the team, thinks they have done really well to win 10 matches and get this far in the competition, mostly against older girls.
They played their quarter-final at Lutterworth Grammar School in Leicester, who were considered the favourites and had only conceded one goal in the competition.
Castle Manor beat them 2-1 in a tough match where they were 1-0 down, with goals from Anna Page and Katie Archer.
"They really played well and really wanted to win, every player gave 100 per cent," said Williams. "They had people watching them from the Leicester County FA, who will base their team around them because they have done so well. So to score two past them surprised everyone.
"We were winning quite easily in the earlier games, but it is getting tougher. We are trying to take one match at a time, but it would be great to get to the final."
In the semi-final, Castle Manor will travel to either Surrey or Dorset, depending on who wins the next quarter-final.
The semi-final must be played on or before April 15.
The Castle Manor squad is:
Stacey Spiers, Amie Carr, Sam Lovell, Charlotte Halls, Zoe Klimcke, Anna Page, Sam Phillips, Katie Archer, Fiona Austin, Aimee Rawlings, Charlene Roach, Sarah Walford and Clare Skinner

Comment on this story
[board listing] [login] [register]
You must be logged in to post messages. (login now)