Global glassful at pub
Thursday, 3rd May 2001.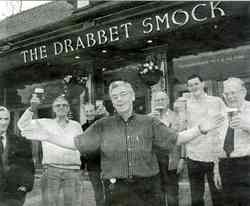 DRINKERS in Haverhill were given a chance to tempt their tastebuds with an unusual range of beers at a pub festival.
The Drabbett Smock, in Peas Hill on the town's Market Square, offered customers imported cask-conditioned beers from the Czech Republic, Germany and Eire.
All beers were priced at £1.29 during the festival.
The foreign beers included Kozel Dark and Herold Bohemian Black Lager from the Czech Republic, Diebels Alt Premium Dark and Fruh Kolsch from Germany, as well as Beckett's Dublin beer.
Brian Amos, manager of the pub, said: "People had the opportunity to sample our choice of foreign beers, which have rarely, if ever, been available outside their own country."
Beers from the UK included Redruth Cornish Rebellion and Titanic A Night to Remember.

Comment on this story
[board listing] [login] [register]
You must be logged in to post messages. (login now)