Golf charity classic raises more than £5,000
Tuesday, 28th June 2011.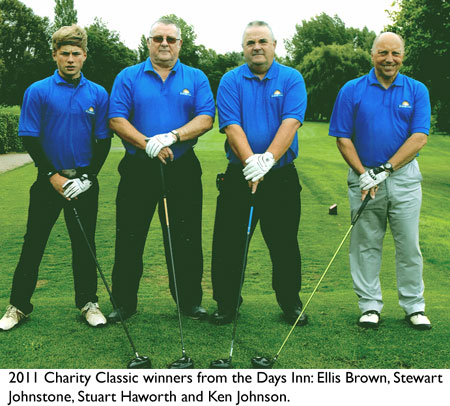 Haverhill Golf and Rotary Clubs' Charity Classic was held on Saturday, June 25 at Haverhill Golf Club.
Although the number of competition entries was down on previous years, the event was still very well supported and raised over £5,000 for charity.
The main beneficiary was St Nicholas Hospice, and community fund raiser Ian Norris thanked the golf and Rotary clubs for their continued support and generosity.
Golf club president Chris Briggs then announced that the first £1,000 of the funds raised will pay for a defibrillator for the golf club and training for the staff by local paramedics.
Chris went onto thank all the sponsors and volunteers who assisted and supported the day, before making the prize presentation.
The competition was run as a team of four for the Charity Classic Trophy as well as a pairs event.
The results were as follows: team, 1 Days Inn - Stuart Haworth, Stewart Johnstone, Ellis Brown and Ken Johnson - with 86 points; 2 Frank Gooch, Paul Bartlett, Andy Gage and Glen Hughes with 85 points; 3 David Pipe, Richard Parker, Paul O'Hare and Dan Wilkins with 83pts.
The pairs event results: 1 Malcolm Klingle & Brian Johnson with 44pts on countback; 2 Eamonn Bareham & Jack Bligh with 44pts; 3 Paul Donno & Steve Bush with 42pts on countback. The competition was followed by a charity auction and evening's entertainment by comedy stage hypnotist, Phil Steele.
On Thursday, June 23, Haverhill ladies were drawn to play against Stowmarket in the second round of the Cranworth at Fynn Valley Golf Club. Although the matches were very close, the overall result reflected a convincing victory for Stowmarket.
The results of the morning matches were (Haverhill team first): Gerry Wheatley & Sally Price lost 0-5 against Joy Wood & Sue Knights, Sarah Field & Doreen Darbey won 4½-½ against Alison Taylor & Mo O'Shaughnessy, Catie Heathfield & Marian Mercer lost ½-4½ against Jenny Buckle & Tracey Delaney.
The scores were carried over into the afternoon singles matches and the results were (Haverhill team first): Sarah Field lost 1-4 against Alison Taylor, Gerry Wheatley lost ½-4½ against Joy Wood, Catie Heathfield won 4½-½ against Sue Knights, Sally Price won 5-0 against Jenny Buckle, Doreen Darbey lost 0-5 against Tracey Delaney, and Marian Mercer lost 0-5 against Mo O'Shaughnessy. The overall result was a win for Stowmarket 29-16.
The following day, Friday, June 24, Haverhill ladies hosted a friendly match against Gosfield. The results were (Haverhill team first): lady captain Marian Mercer & Kathy Bowman lost 1 down to Linda Szpurko & Jenny Starr; Sarah Field & Sheila Playle won 5&4 against Val Dowsett & Gill Clark; Denise Walker & Judy Farren won 5&4 against Mary Turner & Lynda Bartlett; and Doreen Crosbee & Val Shipp lost 2 &1 against Eleanor McGregor & Jo Hayes. The match overall was halved.
The second round of the Hambro saw Haverhill drawn at home against Bungay. The 36-hole event was played on the hottest day of the year so far, and despite the heat it was a very closely fought contest.
The result of the morning matches were (Haverhill team first): Dave & Lewis Whiting lost 1 down against Phil Vincent and Alistair Hall; Sam Palmer & Dennis Harkness (team captain) lost 1 down against Nairn Black and Tom Brown; Daragh Whelan & Liam Merritt lost 1 down against Steed Hubbard & Mark Ashworth; and Jack Warwick & Richard Boyles finished all square against Rob Long and John Cracknell.
Haverhill were just three down at lunchtime, and father and son pairing of Dave & Lewis Whiting rallied in the afternoon to finish their match against Phil Vincent & Alistair Hall 6 up to swing the advantage back in Haverhill's favour.
Sam Palmer and Dennis Harkness found themselves 4 down after 7 holes against Nairn Black and Tom Brown, but finished 3 down after 18 holes.
Daragh Whelan and Liam Merritt lost 1 down against Steed Hubbard & Mark Ashworth and Jack Warwick & Richard Byles finished all square against Rob Long and John Cracknell. The final result was a win for Bungay by just one hole.
The men's IFF Challenge was played on Wednesday June 22. Winning overall, was Mark Hilton with a nett 64 and as a result Mark has had his handicap cut by two shots.
The full results were: Division One, 1 Andrew Underwood 68-2-66, 2 Neil Farlie 79-12-67; 3 Jonathan Moore 79-11-68.
Division Two, 1 Steve Piotrowski 82-17-65; 2 Dick Sisman 87-20-67; 3 Kim Ward 82-13-69.
Division Three, 1 Mark Hilton 92-28-64; 2 Gary Currel 92-24-68; 3 Colin Smith 90-21i-69.
The Bader Cup, a nationally run mixed greensomes event, was played on Sunday, June 26. With a commanding victory of six points clear of their nearest rivals, the pairing of Catie Heathfield and Richard Peck, scored an impressive 43pts to qualify for the regional final to be held at Ely City Golf Club in August.
The runners-up were Theresa Spittle and Spencer Tatum with 37pts and in third place Anna and Ted Fairhead with 35pts.

Comment on this story
[board listing] [login] [register]
You must be logged in to post messages. (login now)