Golf club success at Suffolk Junior Foursomes Championship
Tuesday, 1st November 2011.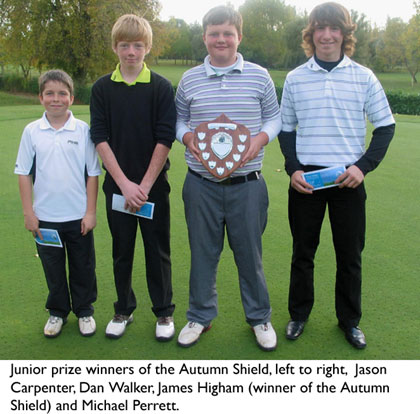 Haverhill junior Chris Vince partnered James Markham from Rushmere in the Suffolk Junior Foursomes Championship held on October 28 at Aldeburgh Golf Club.
They finished runners-up with a gross score of 76 nett 73 which was 3.5 shots behind the winners Robert Salter and Joshua Robertson of Hintlesham and Ufford Park respectively.
Haverhillís Lewis Whiting and his partner Laurence Staff of Aldeburgh were the handicap runners-up with gross 79 nett 71, just losing out on countback to Jack Cuthbert & Jack Levermore both from Thorpeness also with a nett 71.
The Autumn Shield for the Haverhill Juniors was played on Tuesday, October 25. James Higham had an excellent round of golf, having improved his chipping and putting skills to shoot his best medal round of the year with 76-15-61. As a result James has had his handicap cut by three shots to 12.
In second place was Michael Perrett with 76-7-69 and in third place Louis Martin with 97-27-70. The Stableford competition, for handicaps above 28, resulted in a win for Dan Walker, with a score of 39pts, winning on countback from second-placed Jason Carpenter also with 39pts. In third place was Edward Halpin with 37pts, a score shared by the only junior girl who entered the competition, Nicole Pike. Nicole shot two under the ladies par to reduce her handicap by one shot to 31.
The first leg of the Ladies Turkey Trot was played on October 22 and 25. The overall winner, with a fantastic score of 41pts was Christine Grainger, five shots clear of second-placed lady captain Marian Mercer with 36pts and Sarah Field, who finished in third place with 33pts. As a result Christine has had her handicap reduced by two shots to 25 and Marian by a shot to 23.
The Menís IFF Challenge was played on Wednesday October 26. Once again there were excellent scores returned across the divisions, however Andy Gage was the overall winner with a nett 64. As a result Andyís handicap has been cut by two shots to 11.
The full results were: Division One, 1 Lyndon Brown 78-11-67; 2 Andy Rushforth 77-9-68; 3 Andy Craig 81-12-69.
Division Two, 1 Andrew Gage 77-13-64; 2 Gavin Taylor 81-14-67; 3 Brian Jones 84-17-67.
Division Three, 1 Stuart Haworth 87-21-66; 2 John Condon 91-22-69, 3 Ken Johnson 92-22-70.
The final Mixed Match of the year was played away against Bourn on Saturday, October 29, which yielded the clubís only away victory for the season.
The format was greensomes and Haverhill won 5Ĺ to 1Ĺ. Lady captain Marian Mercer & Peter Mercer battled back from being 4 down to halve their match against Keith Howlett (Bournís club captain) & Wendy Ward (lady captain).
The other matches were (Haverhill players first): Doreen Darbey & Ted Fairhead won 3&2 against Iain Clark & Barbara King, Sally & Simon Price won 4&3 against Dave Hubbard & Ann Burbidge, Jane Herrington & Gerry Scott won 4&2 against Dave Peck & Christine King, Ann & Harry Thompson won 6&4 against Peter King & Sue Smith, Catie Heathfield & Richard Peck won on the 18th against Dave Steer & Linda Brown, Carol & Jim day lost 4&3 against Nick Ward & Irene Heyman.
The final home fixture of the year for the seniors section was played in glorious weather conditions at home against The Essex, on Friday October 28. On this occasion the visitors dominated the matches to claim a comprehensive 6-2 win.
The same day Haverhillís social committee organised a Halloween Night Golf event. This competition was open to all sections of the golf club, played over seven holes and was followed by a Halloween-themed feast.
Haverhill vice-captain Steve Ward thanked all those who had contributed to making the night a big success, especially the greenkeepers who set up the golf course, and Steve went onto announce the prize winners.
The best team score was Dan Wilkins, Jade Wilkins, Terry Bishop and Nicole Pike with 39pts. In second place were Andrew Pordage, Michelle Pordage, Andy Rushforth and Rebecca Hazell with 38pts and in third place Louis Martin, Josh Hulyer and Steve Martin who, even with a team player short, scored 37pts!! The winning team also won the prize for best Halloween fancy dress.
Congratulations go out to a Haverhill member, Dai Nicholas, who scored an ace in a friendly game on Saturday, October 29, on the par three eighth hole, 116 yards off the yellow tees, using a pitching wedge. He duly celebrated in the clubhouse afterwards!
On Sunday, October 30, the Menís Medal and J Houchen Cup was contested. A field of 76 took part and the overall winner had to be decided on countback. Jack Bligh, who also had the lowest gross score, had the better back nine score (gross three over par) to claim the trophy with a fabulous nett 63. Jack has now had his handicap reduced to 8 and Andrew Pordage has been cut by two shots to 19.
The full results were: Division One, 1 Jack Bligh 72-9-63; 2 Eric Armstrong 77-12-65; 3 Dave Whiting 73-7-66.
Division Two, 1 Don Simpson 82-17-65; 2 Frank Smith 85-19-66; 3 Chris Mellings 85-19-66.
Division Three, 1 Andrew Pordage 84-21-63; 2 Darren Villis 97-28-69; 3 Graham Hepworth 94-22-72.

Comment on this story
[board listing] [login] [register]
You must be logged in to post messages. (login now)