Golf winners five clear of defending champs
Tuesday, 30th March 2010.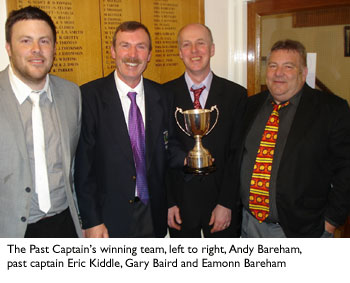 The Past Captainís Trophy at Haverhill Golf Club was played on Saturday, the format being teams of four with three scores to count, off 7/8th handicap.
The winners with an amazing score of 119 stableford points were Eric Kiddle's team of Eamonn and Andrew Bareham plus Gary Baird.
This score was five clear of the runners-up and defending champions, with 114pts (on countback)- president Chris Briggs, Paul Wilby, Russell Gritty and Craig Sisson.
In third place also on 114pts were vice-president Terry Bishop, David Pipe, Dan Wilkins and club captain Dennis Harkness.
The 15 past captains and their teams commented on the quality of the golf course - it was superb for the time of the year. The greens in particular drew sustained admiration from all the competitors.
The last Suffolk Winter Golf Alliance meeting of the season was held on Sunday, March 28, at Haverhill when The Millenium Cup was contested.
The weather presented quite a challenge, particularly for those who had a later start time. Winning team member of the cup Trevor Holley was extremely generous in his closing acceptance speech as to the condition of the golf course and the high standards set by Haverhill Golf Club.
Trevor's partner in the 4BBB Stableford event was fellow Stowmarket member Bill Darling and the pair finished with a score of 45pts, two points clear of five rival teams who amassed 43 points each.
This group included three home club pairs who were led in by Andrew Fish and Joe Davis on countback. Taking third spot Andy and Joe were pipped, also on countback by John and Paul Smith from the Stoke By Nayland. Club professional Paul Wilby took the Proí prize with a five over par 75 medal round.
The Haverhill Ladies Mail on Sunday team came up against a strong team away at Thetford on Sunday, March 28, in their third round match. Lady captain Sally Price commented: "The matches were closer than the scores suggested, and the greens were very difficult to read, but the course was fantastic, and it was a very enjoyable day all round."
The results were as follows (Haverhill team names first): Sue Carr lost 4&3 to Liz Wigg, Mary Sail lost 7&5 to Pat Hudson, Eileen Kiddy lost 5&4 to Jane Wartan, Pat Kennedy won 4&2 against Janice Fossy, Jackie Condon lost 3&1 to Ann McHarg.
Pauline Calmet and Gerry Wheatley represented Haverhill in the ladiesí Daily Mail Foursomes fixture played at Newton Green on March 14.
It was a very close match, but sadly the Haverhill ladies lost on the 17th to the Newton Green pair, Debbie Howlett and Sue Lockwood, who go through to the next round.
The ladiesí March Stableford produced a convincing win for Jacqueline Condon with 42pts, and as a result she has had her handicap cut by two shots. In second place was Sheila Price with 37pts and in third place Karen Wilby with 35pts on count back from Gerry Wheatley.
Alastair Cocks continued his recent form by winning the Midweek Medal Final on Wednesday March 24, and he will go onto receive the Bob Hutchinson Cup at next yearís presentation evening.
Alastairís score of 78-13-65 has meant his handicap has been reduced by one shot. In second place was Kim Ward with a score of 81-14-67, who has now been cut to 13, and in third place the 2009 winner, Harvey Bavester with 79-10-69.

Comment on this story
[board listing] [login] [register]
You must be logged in to post messages. (login now)