Golfer Dennis lifts Millennium Trophy.
Wednesday, 17th November 2010.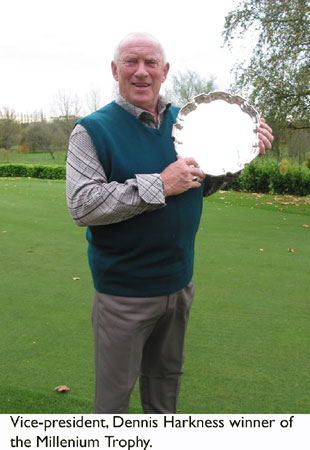 Haverhill Golf Club vice-president Dennis Harkness competed in the spring and autumn meetings organised by the Association of Suffolk Golf Captains.
The spring meeting was hosted at Rookery Park, where Dennis scored 37pts. He went on to have another successful day at the autumn meeting held at Waldringfield, scoring 37pts, to secure overall victory and claim the Millennium Trophy.
The Haverhill ladies' medal was played on Saturday, November 6. Winning by one shot was Lyn Fish with a score of 101-25-76, from second place and midweek medal winner, Jacqueline Condon with 96-19-77. In third place was Mary Sail with 97-17-80.
The menís midweek medal was played on Wednesday November 10. The conditions were difficult and, as a reflection, the competition scratch score was raised to 73.
Winning overall by three clear shots was Andrew Fish, with an excellent gross score of 74. Andrew has now had his handicap reduced to four. The full results were: Division One, 1 Andrew Fish 74-5-69; 2 Jonathan Moore 83-11-72, 3 Edward Fairhead 85-12-73.
Division Two, 1 Ivan Drury 89-16-73 on countback from 2 Steve Piotrowski 89-16-73, 3 Dave Nicholas 92-18-74.
Division Three: 1 David Burns 105-28-77, 2 Ken Johnson 101-23-78; 3 Mark Everitt 106-28-78.

Comment on this story
[board listing] [login] [register]
You must be logged in to post messages. (login now)