Golfer Vince retains Suffolk Junior Championship
Tuesday, 14th August 2012.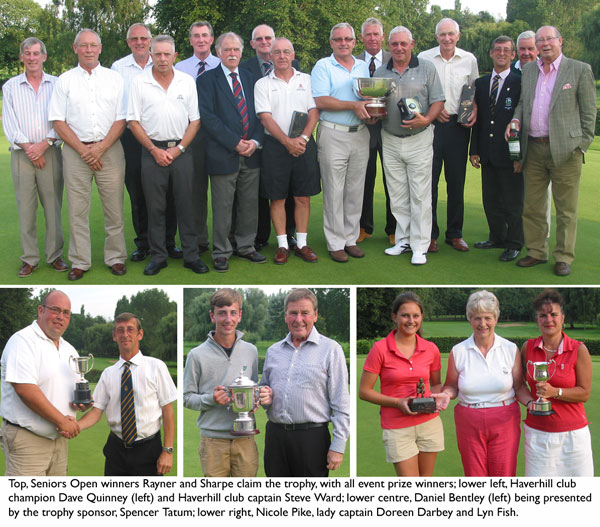 The Suffolk Junior Championship was played on Monday, August 6, at Stowmarket Golf Club over 36 holes with a separate competition over 18 holes for players under the age of 14 holding a handicap above nine.
In total 54 boys entered of whom 16 played 18 holes. After the morning round, home player Jack Forgan led the way with a level par 69.
He was closely followed by Haverhill's Chris Vince with 70, Jack Phillips (Fynn Valley) 72 and Matt Mann 73 (Woodbridge). The afternoon saw some good scores returned with Laurence Staff carding a 72, Mark Fosker (Felixstowe Ferry) 71, Robert Salter (Hintlesham) 73 and Connor James (Ipswich) 70.
Jack Forgan returned a 72 for a total of 141. However with an excellent second round of 70, totalling 140, Chris Vince retained his title and the Mackenzie Cup.
County Call Up
Haverhill hosted the Suffolk vs Leicestershire & Rutland County first team fixture on Sunday, August 5.
Haverhill's Chris Vince was called up to represent the Suffolk Team, playing foursomes in the morning, followed by singles in the afternoon.
After the morning matches, Suffolk were struggling to compete against a very strong Leicestershire & Rutland team and were lying 3½-½ down. Leicestershire & Rutland continued to dominate the afternoon matches to win overall 10-2.
Suffolk Open Championship 2012
This year's Suffolk Open was hosted by Bury St Edmunds Golf Club, on Saturday and Sunday, August 10 and 11. A field of 74 took part comprising 13 Professionals and 63 Amateurs in the 54-hole event.
After the first round on Saturday, Haverhill's head professional, Paul Wilby was lying in first place with an impressive four under par 68, two shots ahead of his nearest rival Jack Cardy from Hintlesham Hall.
The format on Sunday was 36 holes medal and after the morning round Wilby was relegated to second place, just one shot behind Patrick Spraggs the amateur from Stowmarket.
During the afternoon round Wilby's putting continued to let him down, and he fell further down the leaderboard, eventually to fifth place with a total of 218.
Lawrence Dodd, the pro from Bury Golf Range, was the winner with a total of 211 to become 2012 Suffolk Open Champion. In second place was Chris Soanes (A) from Rookery Park with 216 on countback, third place Alastair Hall (A) from Halesworth with 216, fourth place Jack Cardy (A) Hintlesham Hall with 218 on countback.
Haverhill's assistant professional, Ollie Rush finished in 13th place with 225.
Club Results.
Haverhill Juniors travelled to Newton Green Golf Club on Sunday, August 5, expecting to play a full 18 holes of golf. Unfortunately only 30 minutes into the match, a severe thunderstorm halted play for about an hour, with all players having to leave the course.
Once play resumed the match had to be cut to a nine-hole competition. Fortunately this did not seem to affect the Haverhill Juniors, who went on to win the match 2½ - 1½.
The Juniors competed for the Peter Bowers Trophy on Tuesday, August 7. The format was medal for juniors playing off the white and yellow tees and stableford for those playing off the red tees.
Some excellent scores were returned, notably that of Edward Halpin with a nett 62, reducing his handicap by four shots to 20. Edward won the event overall to claim the trophy.
Junior captain Liam Merritt and Michael Perrett both had a superb rounds of golf, each with gross scores of 69.
The full results were: white tee competition 1st place Liam Merritt 69-6-63, 2nd place Michael Perrett 69-5-64, 3rd place Daniel Bentley 78-11-67. Yellow tee results: 1st place Edward Halpin 86-24-62, 2nd place Joshua Hulyer 101-25-76. Red tee results: 1st place Jason Carpenter 44pts, 2nd place Ben Bradnam 42pts, 3rd place James Iron 39pts.
Haverhill Men's Midweek Medal was played on Wednesday, August 8. Matthew Cullen had a sublime round of golf with a nett 60 to win overall, cutting his handicap by three shots in the process.
The full results were: Division One, 1 Gordon Price 75-11-64; 2 Paul Bartlett 75-8-67; 3 Kim Ward 79-11-68 on count back.
Division Two, 1 Neil White 82-18-64; 2 Steve Piotrowski 81-15-66; 3 Allen O'Donoghue 83-16-67.
Division Three, 1 Matthew Cullen 82-22-60; 2 Patrick Bowes 90-24-66; 3 Paul Mower 95-28-67.
The Seniors Open was played on Thursday, August 9. The event, organised by Brian Johnson, was extremely well supported and a field of 136 competitors took part representing 35 golf clubs from across the East Region.
The winners were R Rayner & B Sharpe (The Essex) with 46pts, in second place B Bidwell & D Porter (Rookery Park) with 43pts, in third place T Wignall & A Hitchborn (Thetford) with 41pts, in fourth place T Goggins & R Chisholm (The Essex) with 41 pts and in fifth place R Walter & P Salmain (Bury St Edmunds) with 40pts.
The best front nine score on countback was D Parsons (Haverhill) & J Staines (Bury St Edmunds) with 22pts. The best back nine score was A Gidens & K Oxborrow (Stoke-by Nayland) with 22pts. Nearest Pin on the second was Brian Venter (Ely City), Nearest Pin eighth Lance Fuller (North Weald), Nearest Pin 12th Barry Carter (Gog Magog) and Nearest Pin in two on 18th Richard Styles (Newmarket).
It was an additional celebration for John Staines from Bury St Edmunds, who scored an ace on the par three, 144-yard second hole with an eight iron.
Haverhill's Club Championship was held on Saturday August 11, with a field of 42 competing for the coveted F Johnson Cup. The Spencer Tatum Trophy was also contested for those playing off a handicap between 10 and 18.
On a course that was set up to provide a tough challenge, it was Dave Quinney, who plays off a handicap of +1, leading at lunchtime with a gross score of 74.
Following closely in pursuit were Haverhill juniors Michael Perrett with 75 and Chris Vince with 76. The afternoon round provided a one-shot improvement for Quinney with a gross 73, followed by Dave Perrett with a gross 74 on countback from Lewis Whiting also on 74.
The clear winner by seven shots, to claim The F Johnson Cup, was Dave Quinney with an impressive score of 74+73=147. In second place was David Perrett with 80+74=154, just edging out his son Michael Perrett on countback to third place with 75+79 =154.
The Spencer Tatum Trophy was won by Haverhill junior Daniel Bentley with a gross score of 82+84=166. In second place was Peter McLennan with 88+80=168 and in third place Kim Ward 84+90=174.
On Sunday, August 12, Haverhill Ladies competed in their next Major, the Lady Captain's Cup. The results were close, however Lyn Fish had just a one shot cushion to win with a commendable round of 93-21-72.
In second place was Catie Heathfield with 97-24-73 and in third place Doreen Crosbee with 95-21-74. Haverhill Junior, Nicole Pike was the winner of the Simon Mayfield Trophy with a nett 71, from second place Alice Iron with a nett 73. As a result, Nicole has reduced her handicap by two shots to 26.

Comment on this story
[board listing] [login] [register]
You must be logged in to post messages. (login now)