Golfers in good week for cutting handicaps
Tuesday, 23rd March 2010.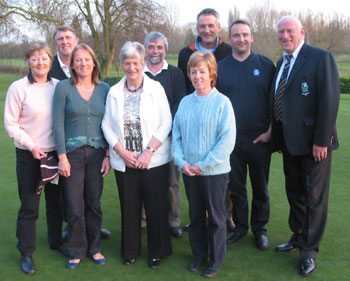 Congratulations to Brian Jones, who had a fabulous round of golf, playing in the IFF Challenge on Wednesday, March 17.
His score of 77-17-60 means he has reduced his handicap by three shots to 14.
The full results were as follows: Division One, 1 David Pipe 74-6-68; 2 Jack Warwick 75-6-69; 3 Stuart King 83-12-71.
Division Two, 1 Brian Jones 77-17-60; 2 Eric Armstrong 79-13-66; 3 Roger Wheatley 90-19-71.
Division Three, 1 Trevor Broomfield 93-21-72; 2 Peter Mercer 96-24-72; 3 Bob Hammett 95-22-73.
The Junior Medal was played on Saturday, March 20. Lewis Whiting notched up another victory, scoring 85-18-67, and as a result he has had his handicap cut to 17. Chris Vince finished second with 73-5-68 (lowest gross) and in third place was Liam Merritt with 89-18-71.
Lady captain Sally Price and Karen Wilby won the LGU Foursomes on Saturday, March 13, with 34pts and will represent Haverhill in the next round to be played at Stowmarket in August.
The Captain's Special Event was held on Sunday March 21, hosted by club captain Dennis Harkness and immediate past lady captain Doreen Darbey.
The event was supported by a field of over 90 men, ladies and juniors taking part. Winning the men's individual stableford competition was new Haverhill member Frank Gooch, with a score of 44pts.
In second place with 42pts was Tim Daniels on countback from third place David Roope with 42pts. The ladies competition was also very close and decided on countback with Gerry Wheatley winning with 37pts from the lady captain, Sally Price, with 37pts.
It was also an extra celebration for retired head greenkeeper, Alan Carter, who had a hole in one on the par three, 129-yard eighth hole, with an eight iron. The day was a huge success and during the course of the year, Dennis announced that over £2,500 had been raised for his chosen charity, Sparks.
The Mail on Sunday team had a great result, winning away 4-1 in their second round match at the Gog Magogs on March 21.
The results for the Haverhill team were as follows, Paul Houchen lost 1 down to Gary Boswell, Gerry Scott won 4&3 against Mike Morrison, Andy Fish won 3&2 against Bob Hardisty, Chris Vince won 5&3 against Pete Waterfield and Jack Warwick won1 up against Alan Campbell. Haverhill are now through to the third round to be played at home against Waldringfield.
Malcolm Klingle and Bob Spittle played their Daily Mail Foursomes match against Stoke-by-Nayland's Steve Clarke and Steve Murphy on Saturday, March 20. Although Malcolm and Bob had the advantage for most of the match, the Stoke-by-Nayland pair edged ahead going 1 up on the 17th, and the 18th was halved to give the hosts the victory.
The Haverhill Seniors played away at Felixstowe on Friday, March 19. It was another successful day for Haverill, with the team winning 4½-3½.
* Our picture shows the Captain's Special Event, back row left to right, Alan Carter, David Roope, Tim Daniels, Frank Gooch, club captain Dennis Harkness. Front row left to right, Sue Carr, lady captain Sally Price, Doreen Darbey and Gerry Wheatley.

Comment on this story
[board listing] [login] [register]
You must be logged in to post messages. (login now)