Golfers queued up to get 'bunkered' for charity
Thursday, 24th May 2012.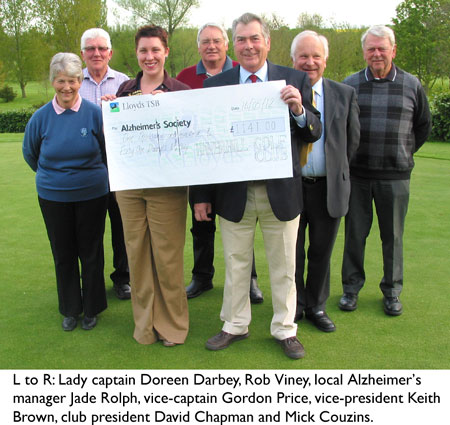 Members of Haverhill Golf Club raised over £1,100 for the Alzheimer's Society, when they purchased a bunker 'season ticket' from Haverhill club captain for 2011, Keith Brown, for his chosen charity.
A cheque presentation was made at the golf club last week to local Alzheimer's manager, Jade Rolph, who thanked the golf club and said: "Although fund raising is fun it can also be very hard work, and Haverhill Golf Club should be very proud that they have raised a staggering £1141.67.
"Alzheimer's Society is honoured to have been chosen as the beneficiary of their efforts. Without the fund raising efforts of groups like Haverhill Golf Club we would be unable to continue our vital work."
Alzheimer's Society is the leading care and research charity for people with dementia and their carers. They provide support and information, campaign for fairer treatment, and invest in research into the cause, cure and care of people with dementia.
To raise funds during his year as captain, Keith Brown, now vice-president of the golf club, was inspired by a previous captain who, years ago, put a jar on the bar in the clubhouse and if you went into the bunker on the par three second hole, you were asked to put some spare coins in the jar, which then became known as the Captains Bunker and subsequently raised lots of money for good causes.
Keith said: "I just built on that theme and sold an annual season ticket for £5. The certificate was a grand affair designed by our manager Karen Wilby, then signed by both the ladies captain Marian Mercer and myself - the certificate title was 'You have been bunkered'.
"On the Captain's Drive In back in April 2011, we hoped it would go well but the members just queued up to buy a certificate with their name on, it was overwhelming.
"I have since learned many have displayed them in pride of place. It has been great fun for all and created lots of jocularity. My thanks go out to the members for their continued generosity to raise funds for the debilitating Alzheimer's that affects so many people."
Each year Haverhill Golf Club hosts many forms of events to help raise money for good causes, including the forthcoming 'Help for Heroes' golf competition on Sunday, June 3.
On Saturday, September 8, the club, together with Haverhill & District Rotary Club will be hosting the Charity Classic to raise funds for St Nicholas Hospice, East Anglian Air Ambulance and Rotary Charities.

Comment on this story
[board listing] [login] [register]
You must be logged in to post messages. (login now)