Golfers turn out to support the pro
Tuesday, 22nd June 2010.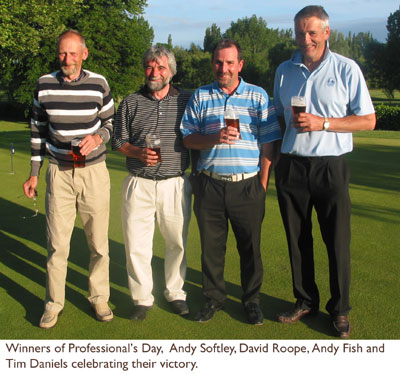 Haverhill Golf Club senior pro Paul Wilbyís Professional's Day was held on Thursday, June 17, and was well supported by the club members and visitors from neighbouring golf clubs, in order to raise funds for the club's junior academy.
The competition was played as a team stableford event with ĺ handicap, two scores to count. Winning with 86pts were Andy Fish, Andy Softley, Tim Daniels and David Roope, in second place with 84pts were Duncan Galloway, Ted Fairhead, Mark Hilton and Steve Mills and in third place with 83 pts were Peter Bowers, Ivan Drury, Dick Sisman and Colin Durston. N
earest the pin was Jackie Condon and the menís longest drive went to assistant professional Ollie Rush, and for the ladies to Pat Kennedy.
Ellis Brown won the junior medal, played on Saturday, June 19, with an excellent nett 62. The full results were: 1 Ellis Brown 84-22-62; 2 Liam Merritt 79-14-65; 3 Chris Vince 72-5-67.
The ladies June Stableford was played on Wednesday and Saturday, June 16 and 19. The overall winner was Pat Kennedy with 37pts, in second place was Marian Mercer with 35pts and Sheila Price finished third with 34pts.
The Presidentís Putter was played on Sunday, June 20, the format, of medal but with a ĺ handicap allowance, making it a very tough test of golf.
Winning with a fabulous score of 70-3-67 was Andy Bareham. In second place was Jim Day with 85-14-71 and in third place Steve Piotrowski 83-12-71. To top off the day, Paul Borowy had a hole-in-one on the par three, 144-yard, second hole. Earlier in the week, Lyndon Brown also scored an ace playing in a friendly match on the eighth, par three, 116 yards.
The Ladies June Smith Silver Salver followed the Presidentís Putter event on Sunday, June 20, and was won by Catie Heathfield with 33pts. In second place was Marian Mercer with 32pts and in third place Eileen Kiddy with 31pts (on countback).
The seniors continued their winning streak last week in both their home matches. The first was played against Stoke by Nayland on Tuesday, June 16, with the result 6-2.
Then on Friday their match against Hintlesham resulted in a very comfortable 6Ĺ-Ĺ win. The first Seniors Medal on the new Yellow Tee competition course was played on Monday, June 21.
Winning with a very impressive 93-28-65 was Keith McCallum on countback from Keith Ivory, with 90-25-65. In third place was Peter Mercer with 91-22-69.
The Ladies Ping qualifier, a pairs stableford competition, was won by Jackie Condon and Mary Sail with 39pts and the runners-up were Sue Carr and Pat Kennedy with 38pts. The winners are now waiting to see if they have been selected to play in the regional final.

Comment on this story
[board listing] [login] [register]
You must be logged in to post messages. (login now)