Good holiday turnout at golf club
Wednesday, 4th January 2012.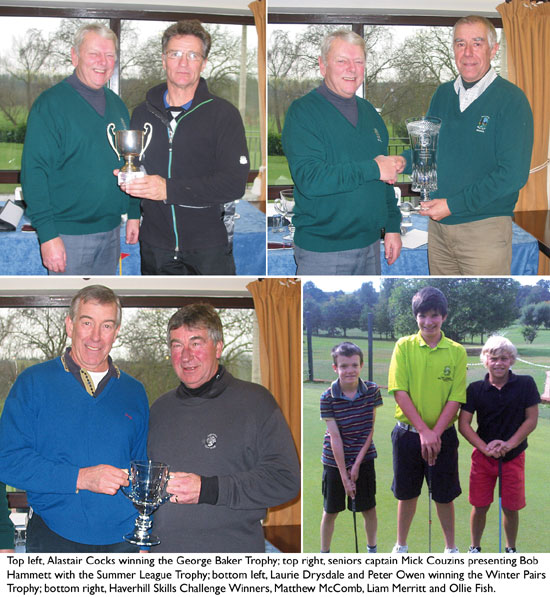 The first of the ladies nine-hole winter stableford competitions was played on December 7 at Haverhill Golf Club.
Winning with a score of 16pts on countback was Denise Walker. In second place was Gill Richardson with 16pts and in third place Gill Edwards with 14pts.
On Monday, December 19, the seniors AGM and presentation took place. Prior to the AGM two ten-hole competitions were contested and the results were: front ten winners, Paul Wallace, Gill Richardson, John Fox & Geoff Dorkins; front ten runners-up, Ray Kings, Jo Stokes, Alan Carter & Keith McCallum.
Back ten winners, Brian Harney, Dave Parsons, Denise Walker & Dennis Harkness; back ten runners-up, Julie Sherry, Mick Couzins, Roger Metcalf & Derek Hill.
Seniors captain Mick Couzins and Keith McCallum gave the prize presentation. Bob Hammett won the Summer League Trophy, Alastair Cocks won the George Baker Trophy and Laurie Drysdale & Peter Owen won the Winter Pairs Trophy.
On December 21, the IFF Challenge was played. The overall winner with a fantastic nett 63 was Dan Wilkins and as a result, he has cut his handicap by two to 13.
The full results were: Division One, 1 Andy Craig 77-11-66; 2 Eric Armstrong 80-12-68; 3 Andy Softley 82-12-70.
Division Two, 1 Dan Wilkins 78-15-63; 2 Steve Piotrowski 81-16-65; 3 Hayden Durrant 87-20-67.
Division Three, 1 Graham Hepworth 96-23-73; 2 Patrick Bowes 101-24-77; 3 Paul Mower 109-27-82.
Haverhill's vice-captain, Steve Ward, organised the International Match which was played on December 27 between teams representing England and Scotland.
There was an impressive field of 84 players and the format was individual stableford, with points awarded within each four ball for a win to give an overall team score.
The team winners this year were England and the best individual score for ladies was Lyn Fish with 31pts and for the men, Steve Ward with 43pts.
Paul Wilby, the head professional at Haverhill Golf Club, was delighted with the turnout for the 2011 Junior Skills Challenge.
There were three handicap categories and each junior had to compete in five different skills challenges, gaining points for each ball that hit the target. Each junior had five shots on each skill, giving them 25 point-scoring opportunities.
The winners of each category were: Liam Merritt (junior vice-captain) handicap 0-9; Ollie Fish, handicap 10-30; Matthew McComb, handicap 30+.
Paul Wilby thanked the lady captain Marian Mercer and club member Stella Renyard for their assistance on the day. Haverhill Juniors receive 85 hours a year of funded coaching, paid for by the generosity of the golf club members and guests invited to the Wilby Anniversary Day.
Paul Wilby said: "I am really grateful to our members whose support enables our young golfers to gain golf knowledge which helps them grow into the game.
"The juniors who took part and continue to practice regularly have gone on to improve their golf dramatically and it has been of real benefit to them."
In 2011, a new category of membership was introduced, Colts and Fillies, to enable young people to get started in golf. This is an intermediate scheme aimed at 4-12 year olds. For more information on this, golf tuition or junior membership, please contact 01440 712628.

Comment on this story
[board listing] [login] [register]
You must be logged in to post messages. (login now)