Grandmother gets knitting for charity
Thursday, 13th April 2000.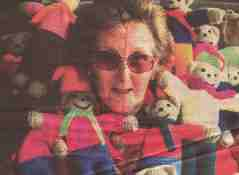 Nimble-fingered grandmother Pauline Cianciola has knitted a bumper 27 teddies for a children's charity and would like help to knit even more.
Mrs Cianciola, of Chaplins Close, Haverhill, has been producing the toys for the Teddies for Tragedies group which ships them around the world to sick children in hospitals or those who are victims of natural disasters like the Armenian earthquake.
Mrs Cianciola saw a story in our sister paper, the Evening News, about a group which had knitted 50 teddies between them for the charity, when she had knitted the 27 bears on her own in around three weeks. If people were willing to donate wool or materials, she believes she could make even more.
She started the bears after previously knitting jumpers for Oxfam, she heard of the scheme through her grand-daughter Giulietta's school in Bury St Edmunds.

Comment on this story
[board listing] [login] [register]
You must be logged in to post messages. (login now)