Gurteen Redevelopment Public Display
Wednesday, 6th January 2010.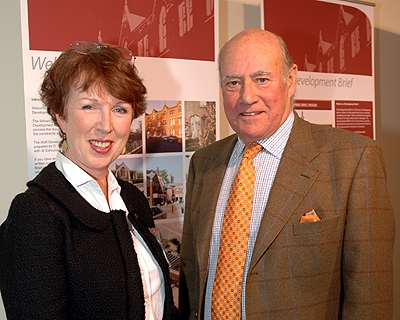 Guidelines for the way the Gurteen factory site in the centre of Haverhill could be redeveloped went on public display yesterday.
Gurteens are looking to move, after 225 years at Chauntry Mills, due to the changing needs of their business since manufacturing moved abroad from the site in 1996.
The three-acre site is integral to the development of Haverhill town centre and Gurteens' sales director and board member Damian Howard said they were determined to manage the process of moving properly.
"This display is part of a consolidated process which began more than 18 months ago," he said.
"It is preparatory work to explore the possibilities of what could be done on this site.
"We all want to do what is best for the town. If we can add value to Haverhill it has to be a benefit to everyone.
"Gurteen does it properly - we don't cut corners. That is why we have gone to Bidwells, a top agent which knows the area."
Bidwells and St Edmundsbury Council planners have put together the development brief which is now open for public consultation.
Helen Thompson of Bidwells said they wanted as much feedback from the public as possible and every opinion would be taken into account.
The brief looks at ways the Grade II listed site could be redeveloped, including demolishing some of the more modern and less important buildings.
"We all realise the site cannot be razed to the ground," said Mr Howard.
"In an ideal world we would like to see a mixed use with business coming in to allow peoiple to prosper, and residential development, but in the end the market will decide."
Any developer taking on the site will now have to come up with proposals which fall in line with the development brief, which now forms non-statutory planning guidance for th site.
"It sets a line in the said," Helen Thompson explained. "These are the principals for a developer so that he knows where his tands when he looks at the viability of the site.
"I am sure there are people around who would be interested," she said.
The site will now be marketed and Mr Howard said he thought the recent improvements in Haverhill's facilities must mean there was a greater prospect for finding a developer, although he admitted he was looking in terms of five to ten years before any scheme would go ahead.
The factory was full of nooks and crannies which were not suitable for a modern business, he said, and deliveries were a real headache.
"We have 70,000 units coming in every week as we get ready for spring delivery," he said. "The lorries are a headache for us and for people living nearby and it is not a happy state of affairs."
The company was looking to relocate to a more convenient site near the bypass, he said, but would not be able to move unless a deal was completed over the current site.
But he was confident that some 'signature' of Gurteens would remnain on the site - possibly the original steam engine Caroline, which is still in situ.
The chairman of business group Haverhill Enterprise, Richard Herbert, said they were would like to see the central buildings on the site retained, but the rest of the site redeveloped for retail, residential and leisure uses.
"I think recent developments in Haverhill will help to bring this forward. With Tresco not far away there is more footfall here now and the town is continuing to grow," he said.
Bidwells and the board of Gurteens are both very keen to get as much public feedback as possible and the brief will be on display at Gurteens' reception throughout January, where you can make comments.
You can also add to the discussion through Haverhill-UK by putting your comments on this site, and all will be forwarded to the agents for consideration.
* Our picture shows Helen Thompson of Bidwells with Christopher Gurteen at the public exhibition.

Comment on this story
[board listing] [login] [register]
You must be logged in to post messages. (login now)