Harrington is playing for keeps
Thursday, 1st November 2001.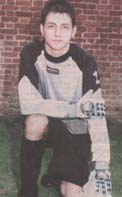 A TALENTED young footballer from Haverhill was among three players from the Bury Football School selected to go on to the second stage of trials for the British Colleges under-19 team.
Michael Harrington, of Glemsford Place, will go to Bristol on November 9 with James Evans and Marc Wake from Stowmarket to play alongside other potential College stars in a South East v South West of England match.
"Michael Harrington is our first year goalkeeper -- it is really good for him to have got in the trials for the Under 19 British team. He has done really well," said Sports Academy manager Jonathan Warnock, who took the lads to Slough for the recent trials.
Michael, pictured left, was released from Colchester last season, but has impressed Bury Football School's head coach Danny Laws with his mental toughness.
"Michael has responded well to all the coaching and is making good progress," said Mr Laws. "He applies himself well, and can recover quickly from making mistakes."
Michael's career with the Football School has got off to a flying start. Shaq, as he is known to his team-mates, has played regularly at Under 17 level and made a good enough impression to represent the School at Under 19 level. He was one of eight players who joined boys from all over the south east of England at the trials

Comment on this story
[board listing] [login] [register]
You must be logged in to post messages. (login now)