Harry finishes as top assistant pro
Wednesday, 26th October 2011.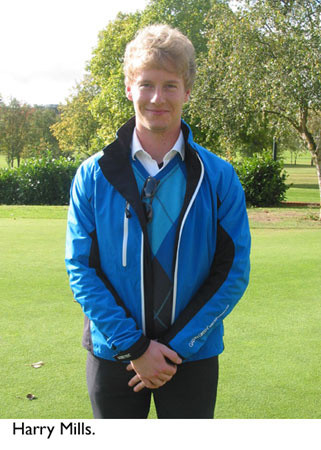 Haverhill Golf Club's assistant professional, Harry Mills competed in the Thomson Tour Order of Merit Event at Mid Herts Golf Club on Monday, October 17.
In a field of 36 professionals, Harry finished as best assistant professional with a two-over par score of 71, to finish in sixth place overall.
Former European Tour professional Nick Algate carded a six under par 63 to win the first of a series of 11 tournaments which is run throughout the winter months. The next event is scheduled for November 9 at Chesfield Downs Golf Club in Hertfordshire.
On Thursday, October 20, the ladies played in a friendly match at home against Towerlands. The Haverhill Ladies continued their recent form to secure a comprehensive 4-0 win.
The full results were (Haverhill first): lady captain Marian Mercer & Ann Thompson won 5&3 against Rosie Hollands & Barbara Coupe, Jackie Condon & Sheila Playle won 4 & 3 against Marlene Tedder & Babs Cooper, Chris Grainger & Gill Richardson won 3&2 against June Francis & Joan Williamson and lady vice-captain Doreen Darbery & Judy Farren won 3 &2 against Joyce Thorndyke & Linda White.
The third meeting of the Suffolk Winter Alliance was held at Stowmarket on Friday, October 21. The professional first prize was shared by Danny Barton (Felixstowe Golf Centre) and Lawrence Dodd (Bury Driving Range) with a two over par round of 71.
Sharing 3rd place was Haverhill's head professional Paul Wilby and Robin Mann of Southwold with 72.
The four ball better ball results were: 1 Trevor Hellyer & Peter Nunn (Hintlesham) with 42 points, 2 Sam Ward & Ronnie Scott (Ufford Park) with 40 points on count back, 3 Danny Barton & James Tyler (Felixstowe Golf Centre) with 40 points.
Haverhill's Paul Donno and Paul Wilby finished just out of the prizes with 39pts and Darragh Whelan and Harry Mills were just behind with a score of 38pts. The next meeting will be at Southwold on November 10.
The Rehab Cup, a mixed stableford event was played on Sunday, October 23. In all 74 golfers took part from all sections of the golf club. New Haverhill member, Andrew Pordage, formerly of Barkway Park Golf Club stormed to victory with an incredible 46pts, and as a result he has trimmed his handicap by four shots to 21.
In second place was Andrew Rushforth, also a new member at Haverhill, who scored 41pts and in third place was Robert Haylock with 39pts on countback. The best score from the ladies section was Catie Heathfield with 32pts and for the juniors Lewis Whiting with 34pts.
Haverhill seniors had more success in their recent matches during October and the results were as follows. On October 6 they drew 4-4 away against Hintlesham, on October 7 they played at home against Diss and had a commanding win 6-2, surpassed by another home win on October 11 by 7-1 against Meridian.
Finally, the seniors played in a mixed match at home against Braintree on Friday, October 21, and it was another successful day for the hosts, winning comfortably by 4-0.
The final of the Seniors Pairs Summer Match Play (better ball format) was between Peter Owen (19 handicap) and his partner Lawrence Drysdale (27 handicap), against Dave Parsons (19 handicap) and his partner Peter Mercer (21 handicap). Peter and Lawrence managed to play faultless golf throughout to win the match comfortably by 5&4 and claim the trophy.

Comment on this story
[board listing] [login] [register]
You must be logged in to post messages. (login now)