Haverhill Bus Station Having a Spruce Up
Monday, 11th August 2008.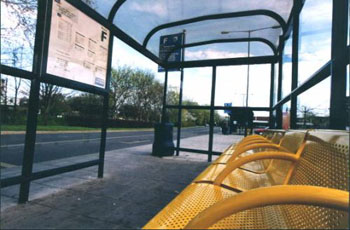 Haverhill's bus station is to undergo an intensive summer clean up. Following a number of local complaints about the appearance of the bus station, St Edmundsbury Borough Council's Haverhill Area Working Party has arranged for it to be cleaned.
Plans are already underway for a major refurbishment next spring with a £200,000 investment from Suffolk County Council to pay for new shelters, new paving and seats and a reorganisation of how the bus station operates. However, in the meantime St Edmundsbury Borough Council has agreed to step in with some interim measures in response to concerns from the Town Council and members of the public. The Waste Team will be cleaning up the shelters and paving area and removing graffiti and stickers to make the site look a little more clean and tidy. They will also be looking at how to make the shelters weather-tight for winter.
Cllr Karen Richardson, Vice Chairman of the Haverhill Area Working Party, says:
"We are looking forward to the big revamp taking place next year but felt we needed to take some action now to make the facility more pleasant for local people and to make sure the shelters will withstand the winter. Hopefully this planned clean up will do the trick and tide us over until the major works next spring."

Comment on this story
[board listing] [login] [register]
You must be logged in to post messages. (login now)