Haverhill Chamber Recognises Innovation and Excellence with Twelve Very Special Awards…
By Elaine Collins on Monday, 18th April 2005.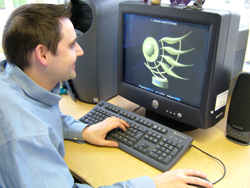 The Haverhill Business Awards 2005 have been designed by the Haverhill Chamber to showcase the brightest and best of the area's businesses and recognise those companies, organisations and individuals who help to put the town and district on the economic map of the eastern region. The scheme has been a tremendous success with over 100 organisations in the Haverhill area receiving nominations. Finalists in each category will be announced in April. The highlight and culmination of the business awards programme will be the presentation of the twelve awards at a Gala Ball to be held on May 21st 2005. Here, winners will each receive one of these exclusive awards, conceived and produced in Haverhill, which have attracted so much attention in recent months.
The Haverhill Business Award has been described as an icon for our times. Dazzling with light and vitality, it possesses an ethereal quality, which is singularly arresting.
The award is the product of a unique partnership between two Haverhill companies, one young, using new technology, and the other long established in the area, casting metal through traditional methods. The exceptionally talented and innovative
Pure Energy Multimedia
worked closely with the internationally acclaimed Taylor's Foundry to create a design 'tour de force'.
The Award is eleven inches high, cast in solid aluminium and gold in colour.
The image upon which the award is based was originally fashioned by Robert Connor, a Sixth Form student from Haverhill's Castle Manor Upper School. Robert won a competition for local schools to design an appropriate logo for the new Chamber, following its launch in February 2004.
Pure Energy then worked with Robert's design to create the Haverhill Chamber logo as it exists today. Inspired by the ethos behind the Business Awards initiative, Pure Energy applied their vision once again and transformed the logo into a three dimensional image. It was then passed on to Taylor's Foundry to render the visual idea into material being.
The result represents a successful fusion of orthodox and innovatory knowledge, skills and expertise, and in one sense symbolises Haverhill embracing the future through a synthesis of industry and technology.
The award resonates with an inner energy, suggesting movement and fluidity. It appears to flow forward with an impetus of its own, thus emulating the
Spirit of Enterprise
that now exists in Haverhill's business community.
Its beauty and what it signifies in terms of validation will ensure winning one of these awards will come to mean more than a brief moment in the spotlight. Essentially, it will remind winners of how their business fits into the general pattern of excellence, which Haverhill can produce.
The inaugural Haverhill Business Awards, the ultimate recognition of excellence and innovation in the Haverhill area, will take place on 21st May 2005 at Chilford Hall, Linton. If you would like to be there to congratulate the winners, meet the area's brightest and best and dance the night away, make sure you book your place now. Ring Diana on 01440 707184 or book online at www.haverhillchamber.co.uk

Comment on this story
[board listing] [login] [register]
You must be logged in to post messages. (login now)