Haverhill Chamber Unveils Shortlist for Business Awards
By Elaine Collins on Friday, 13th May 2005.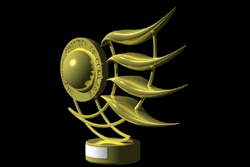 The Haverhill Chamber of Commerce, announced the shortlist of finalists in the inaugural Haverhill Business Awards today.
Companies on the short-list range from the small and new to the large and long established. These include young and innovative companies like The Design Office, Thurlow Countryside Management and Atrium Active, through to well known presences in the town, such as AXA and Saffron Walden & Herts Building Society, Herma (UK), Ardex and Printwise.
Entry was open to organisations situated within a ten miles radius of Haverhill, including Clare. Two Clare businesses, Hudgies Hardware and The Ship Stores, fought off stiff competition from larger retailers in Haverhill to become finalists in this category.
Castle Manor Upper School's Head Teacher, Madeleine Vigar, received a host of nominations and joins local businessman, Gerry Taylor, and editor of the Clare Focus, Howard Jackson, as a finalist for Business Person of the Year.
Technological innovation in the area is represented in exciting and inspiring ways through the three short-listed companies in this category: Stratos, Figleaves.Com and Cyberaid.
The winners will be announced at a glittering black tie Awards Ceremony and Gala Ball at Chilford Hall on Saturday 21st May. Well-known DJ Craig Stevens, of Vibe FM, will compere the evening.
Commenting on the short-list, Chamber spokesperson, Paul McGurl said, " We are delighted with the response to the Awards, which were designed to showcase the enormous amount of talent, expertise and enterprise that exists in the local area.
" Our panel of independent judges, from across the region, were really impressed with the quality and standard of the submissions and it was no easy task for them to decide on finalists. The short-list features so many outstanding examples of business excellence and innovation. There are few towns in Suffolk that are as vibrant and forward-looking as Haverhill.
" We believe that this inaugural business awards programme will encourage further achievement through highlighting and endorsing those that have been successful. Winning an award will come to mean more than a brief moment in the spotlight. Essentially, it will remind winners of how their business fits into the general pattern of excellence which Haverhill can produce."
Shortlist of Finalists
Award category with Sponsor
The Customer Care and Service Award
Sponsored by: International Flavours & Fragrances
For organisations demonstrating a positive commitment to providing high standards of customer care
Finalists:
Atrium Active
Edmo Lifts
Saffron Walden Building Society
Commendation
Ellis's Bakery, Haverhill
Best Use of Technology Award
Sponsored by: National Westminster Bank
For organisations that can best demonstrate effective use of business technology
Finalists:
Cyberaid
Figleaves
Stratos
Commendation
WS Networks
Employer of the Year Award
Sponsored by: Neptune Spas & Pools
For organisations able to demonstrate a commitment to employees
Finalists:
Genzyme
AXA
Sigma Genosys
The Retailer of the Year Award
Sponsored by: Grampian Country Foods
For outstanding achievement in the retail sector
Finalists:
The Ship Stores (Clare)
Hudgies Hardware ( Clare)
Party Animals (Haverhill)
Best Small Business Award
Sponsored by: Haverhill Business Park
For the best business up to 25 employees
Finalists:
Wicked Wheels
Printwise
The Woodlands Hotel
Marketing Strategy of the Year Award
Sponsored by: Genzyme
For the most successful marketing campaign
Finalists:
GT Vision
Ardex
Castle Manor School
Special Award – HWN
Robert Connor
Castle Manor Upper School
Winner of the Haverhill Chamber Logo competition
The Environmental Awareness Award
Sponsored by: Risk & Safety Solutions
For the company that can best demonstrate a commitment to minimising its impact on the environment
Finalists:
Thurlow Countryside Management
DG Landscapes
International Flavours & Fragrances
Export Achievement Award
Sponsored by: Lloyds TSB
For the best export record over the past year
Finalists:
Herma (UK) Ltd
Yeoman Lifts Ltd
Mansol Preforms
Best Large Business Award
Sponsored by: BAA Stansted
For companies employing more than 25 staff
Finalists:
IFF
Stratos
Ardex
Best Young Entrepreneur Award
Sponsored by: Vibe FM
For the young business person who has shown the most enterprise
Finalists:
The Design Office
Haverhill School of Speech & Drama
Wicked Wheels
Commendation
Lauren Gibson-Green of Kids Bizz Unlimited
Business Person of the Year Award
Sponsored by: Barclays Bank
For outstanding achievement by an individual
Finalists:
Gerry Taylor – Chairman of Taylor's Foundry
Madeleine Vigar – Head Teacher of Castle Manor Upper School
Howard Jackson – Editor of Clare Focus
The Business of the Year Award
Sponsored by: Sigma Genosys
For the most outstanding business in the region
Finalists:
Genzyme
Ardex
Stratos
There are a limited number of tickets still available for the Gala Ball and Awards Ceremony. Tickets can be booked online at www.haverhillchamber.co.uk
or by telephoning Kay on 01440 707184
For Haverhill Chamber membership enquiries contact Jason on 01440 709794.
(c) Gold PR

Comment on this story
[board listing] [login] [register]
You must be logged in to post messages. (login now)