Haverhill duo tumble into finals
Thursday, 9th March 2000.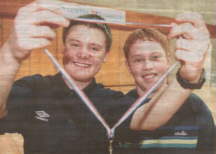 YOUNG gymnasts from Haverhill have reached the national finals in May in the same discipline of acrobatic tumbling.
Jamie Nunn, 18, of Rosefinch Close, Haverhill, who won the News Sports Award last year, has achieved considerable success in the sport since he took it up around two years ago.
Nunn, who has been a gymnast since he was four, came third in the last British Championships.
Now Daniel Manley, 13, of Hudson Close, Haverhill, has qualified for the finals after winning gold at the Eastern Region Championships in King's Lynn.
Manley is a pupil at Chalkstone Middle School and took up tumbling only a year ago.
Both train at Bury Spectrum Gym Club and travel there together, but will not compete against each other because they are in different age groups.
Nunn broke his foot, but is due to have an operation and confident he will be fit for May.
"It is strange there should be two of us from Haverhill to reach the finals. He is talented and should be a good prospect for the future with the right training," said Nunn.
PICTURE CAPTION: ACROBATS . . . Daniel Manley (left) with his regional gold medal, and Jamie Nunn, both whom will be taking part in the British Championships in May.

Comment on this story
[board listing] [login] [register]
You must be logged in to post messages. (login now)