Haverhill fail to hat-trick heroine
Thursday, 11th November 1999.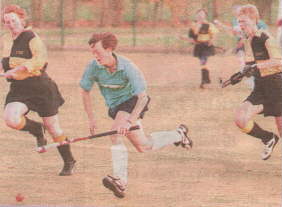 HAVERHILL women's hockey team fell victim to St Ives hat-trick heroine Sarah Hartley, who reluctantly took the plaudits in her side's 3-0 win to retain top spot in the Crowe Insurance Women's Superleague Division Two.
It was no compensation for Haverhill that Hartley - who initially denied scoring the scrappy third goal but was officially credited with the strike after the game - was forced to observe club rules by buying her team-mates a traditional jug of ale.
Whether Hartley did actually score the third is highly debatable amid a melee of sticks and feet - an impartial view would suggest the final touch came off a defender - but the most important thing for St Ives was the result.
It meant they were still unbeaten after seven league games and remained top of the division on goal difference ahead of Chelmsford. Both teams have 19 points.
Saturday's results were never really in doubt once Hartley put St Ives ahead with a crisp 11th minute strike. If it had remained like that until half-time Haverhill may have been able to regroup and fight back, but Hartley pushed the result beyond doubt when she fired home a short-corner just seconds before the interval.
Twelve minutes later it was 3-0 and Hartley should have put doubts over hat-trick to bed when she was one-on-one later in the half as the home side pushed forward.
but, having done the hard bit and rounded the keeper, the free-scoring forward hit the post.
Picture Caption: Get a tackle in . . . Haverhill players chase a St Ives attacker during their 3-0 defeat.

Comment on this story
[board listing] [login] [register]
You must be logged in to post messages. (login now)