Haverhill golfer Chris becomes Suffolk junior champion
Tuesday, 9th August 2011.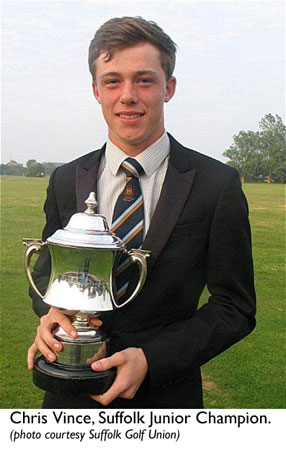 Haverhill junior golfer Chris Vince took the honours at the Suffolk Junior (U18) Championship 2011 which was held on Tuesday, August 2, at Gorleston Golf Club.
With two very consistent rounds of golf, Chris secured victory with a nett 68-69-137 to claim the trophy.
The results were: 1 Chris Vince (handicap 3) from Haverhill 71 + 72 = total 143 (nett 137);
2 Josh Cottrell (scratch) from Ipswich 74 + 70 = total 144 (nett 144); 3 James Markham (handicap 5) from Rushmere 76 + 71 total 147 (nett 137).
The R Brown Cup, the next major in Haverhill Golf Club's calendar, was played on Sunday, July 31. A field of 38 took part in the 36-hole medal event and some excellent scores were returned.
Jack Bligh won the overall competition with a very impressive nett score of 64+67=131, four shots clear of second place Dan Wilkins with 68+67=135.
Haverhill junior Richard Boyles finished in third place with 67+70+=137 and in fourth place, on countback, was Ed Baker with 71+67=138.
Haverhill junior Joshua Hulyer won the regional UK Kids Qualifier 2011 for his age group at Stonham Barns on Sunday, July 31, with a score of 36pts.
Eight-year-old Joshua is one of six juniors to represent different age groups who will go on to play in the UK finals, the date and venue to be advised.
On Wednesday, August 3, the Ladies Medal was played. Winning with a commanding eight-shot lead over the runner-up was lady captain Marian Mercer with a round of 96-26-70.
As a result, Marian has had her handicap cut by one shot to 25. In second place was Doreen Crosbee with 97-19-78 and in third place Doreen Darbey with 106-26-80.
The Saturday Medal was played on August 6 and Jane Herrington also had a runaway victory with a fabulous round of 97-32-65, which was seven shots clear of her nearest rival!
Jane's handicap has been cut by four shots to 28. In second place was Gerrie Wheatley with 94-22-72 and in third place Catie Heathfield with 96-23-73.
This year's Junior Captain's Day was held on Wednesday, August 3, and it was well supported by 12 boys, and five girls and all participants had a very enjoyable day, despite the very warm and humid weather conditions.
Some notable results from the day included Alice Iron being the first girl to win the morning 18-hole medal competition with a nett score of 65, in second place with a nett score of 66 was Hayden Durrant on countback from third place Mitchell Davis also with a nett 66.
The 18-hole morning stableford competition was won by Louis Martin with 40pts on countback from Joshua Hulyer also with 40pts.
Winning the Abu Dhabi competition (lowest gross) for the girls was Alice Iron (101) and for the boys Michael Perrett (78).
Winning the 36-hole stableford competition was Ben Bradnam with 71pts overall and in second place was Edward Halpin with 57pts.
Winning the Captain's Day Cup, 36-hole Medal competition, sharing the same overall nett score, were Michael Perrett with 68-65-133 and Hayden Durrant with 66-67-133.
Andy Martin, from the junior committee, organised the day's event and thanked all participants, parents and staff of Haverhill Golf Club for making the day such a success and for supporting this year's junior captain, Richard Boyles.
The following day, August 4, the weather couldn't have been more extreme for the men's Stableford competition. The field was drastically reduced with only 11 competitors taking part and it was run over just one division.
Under the circumstances Alan O'Donoghue scored a very commendable 39pts and he has had his handicap reduced by one shot. In second place was Keith Whitfield with 38pts and in third place Luke Williams with 37pts.
The R Woolmer Greens Trophy was contested on Sunday, August 7, a medal competition, played off a handicap limit of 18.
Once again there were some great scores returned, and Richard Mansfield claimed the trophy with a fantastic round of 79-15-64. As a result he has had his handicap trimmed by two shots to 13.
In second place was Trevor Broomfield with 81-15-66, also reducing his handicap to 13, and in third place Mick Harrington with 84-16-68, who has had his handicap cut by one shot to 15.

Comment on this story
[board listing] [login] [register]
You must be logged in to post messages. (login now)