Haverhill golfers go down narrowly in semi-final
Thursday, 20th September 2012.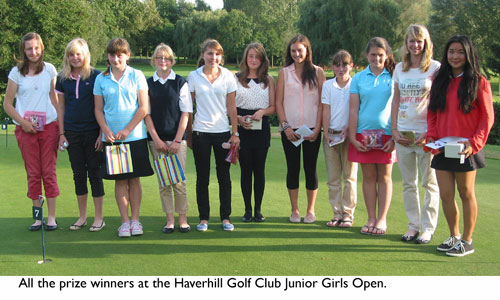 On Sunday, September 9, the semi-finals of the Curry Cup Team were contested and Haverhill Golf Club played their match at Stowmarket against Colne Valley, where they lost by just one point.
The other semi-final was played at Haverhill between Benton Hall and Stowmarket, where Benton Hall went onto win 10˝-7˝. Benton Hall and Colne Valley go through to the final to be played on Saturday at Colne Valley.
The Ladies September Medal and LGU Pendant was played on Wednesday and Saturday, September 12 and 16. Jane Herrington was the clear winner by five shots with an excellent round of 91-23-68, reducing her handicap by two shots to 21.
In second place was Jo Stokes with 109-36-73 and in third place Pauline Calmet with 98-24-74 on countback.
On Sunday, September 16, The Woodlands Cup was contested, a pairs four ball, better ball event, played off 7/8ths handicap.
A field of 82 players took part in the competition and the winners of the trophy with 45pts were Graham Ashcroft, playing off a reduced handicap of 11, and Dave Quinney playing off scratch.
In second place were Chris Iron and Neil Farlie with 44pts on countback from third place Gary Webb and Andy Tabrar, also with 44pts.
Haverhill hosted its Junior Girls Open on Sunday, September 16. In all, 19 girls took part representing 13 clubs from the East Region.
Winning the scratch competition to claim the overall prize was Anna Collis from Letchworth with a gross score of 79.
Winning the handicap competition was Melinda Tapping from Gog Magog with 91-24-67, in second place was Anna Collis 79-11-68 and in third place Abbie Symonds from Ipswich Golf Club with 81-11-70.
Haverhill's Fiona Stokes was the winner of the 18-hole stableford competition with 31pts and Lily Humphreys from Channels was the winner of the ten-hole stableford competition with a fantastic score of 26pts.
The longest drive, a whopping 225 yards on the tenth, was Chloe Ashman from Ely. Nearest the pin on the second was Melinda Tapping from Gog Magog and nearest the pin on the eighth was Louisa Storey from Colchester.
Haverhill's lady captain Doreen Darbey gave the prize presentation assisted by Haverhill's head professional, Paul Wilby. Doreen went on to thank all the volunteers, in particular Junior Girls Organiser Pam Ratford and all the parents and friends for their support during the day.
Haverhill junior Joshua Hulyer has qualified for the national finals of the UK Kids Golf Competition 2012. This is being held on Saturday at Whittlebury Park in Buckinghamshire.
The committee and members of Haverhill Golf Club would like to wish Joshua all the very best for a successful day.

Comment on this story
[board listing] [login] [register]
You must be logged in to post messages. (login now)