Haverhill golfers just fail in the wet
Tuesday, 24th November 2009.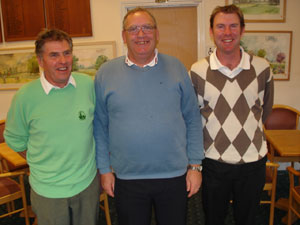 Haverhill Golf Club players just failed on Sunday, at Newton Green, to collect all of the amateur prizes for a second successive Suffolk Golf Alliance meeting.
On a day that saw the whole field endure a positive dousing from the heavens, long-time clubhouse leaders Andy Fish and Joe Davis had to settle for third spot, losing out on countback to home professional Tim Cooper and Paddy Lockwood.
Both pairs recorded 39 stableford points in the four ball better ball (4BBB) event, which was just two in arrears of the winners from Coupals Road, who were Chris Briggs (club president) and Jim Walker with 41pts.
Tim Cooper's leading medal round was a two over par 71. The next Alliance meeting will be held at the Seckford Club on Wednesday, December 2, and will also be a 4BBB competition.
The Haverhill Juniors played their medal on November 22, and Liam Merritt continued his recent form by winning with an impressive nett 68, consequently reducing his handicap by one.
The result was as follows: 1 Liam Merritt 90-22-68; 2 Christopher Vince 76-5-71 (lowest gross); 3 Jack Warwick 78-6-72 on countback.
The Ladies Section 'Turkey Trot' was played as a two-round stableford event, with the first round being played in October and the second in November.
The results were as follows: Round One - 1 Sheila Price 37pts; 2 Jackie Condon 33pts on countback; 3 Kathy Bowman 33pts. Round Two – 1 Pat Kennedy 38pts; 2 Kathy Bowman 35pts; 3 Sheila Price 31pts.
The overall winner was Catie Heathfield with a Round One score of 31pts and Round Two score of 38pts.
* Our picture shows Winter Alliance winners at Newton Green, Jim Walker and Chris Briggs of Haverhill with Newton Green professional Tim Cooper.

Comment on this story
[board listing] [login] [register]
You must be logged in to post messages. (login now)