Haverhill Junior Open Tennis Championships 2013
Wednesday, 14th August 2013.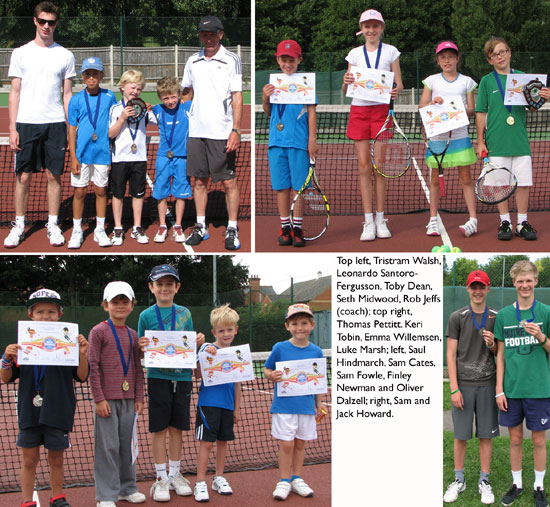 Monday August 5th – Day one of the annual championships was kicked off by our youngest players in the Red Mini Tournament for the 8 and under age group. Oliver Dalzell, Sam Fowle, Sam Cates, Finley Newman and Saul Hindmarch made up the small competition.
Haverhill player Sam Cates got off to a great start by avenging last month's defeat by Saul to win a very tight game 11-9. Oliver played in his first ever tournament and lost his first game 10-4 against Finley, but continued to fight hard in every game. Sam Cates and Saul won their other games to finish first and second. Sam Fowle won 2 matches to pick up the bronze medal.
A much bigger field of 11 players competed in the Orange Mini Event, with players from Ipswich and London taking part. Teddy Hope won all his matches in group A even though 2 matches went to 3 sets and the other games were very tight, he played some great matches.
Seth Midwood won 3 matches to finish second in the group and go on to the semi-final knock out. Group B had some incredible games with the 9 year olds serving and volleying, playing drop shots and picking up some amazing shots. Toby Dean won the group with 5 wins and Leonardo Santoto-Fergusson finishing second. In the semi-finals Toby beat Seth 7-4, 7-0 and Leonardo beat Teddy 10-8, 7-3. Seth narrowly beat Teddy 7-5,7-5 to take third place.
In a very close final Toby eventually beat Leonardo 8-6, 13-11. Huge thank you to Tristram Walsh, Sarah Jeffs, Harry Sendall and Abi Cartwright-Tomas for helping to make the day run smoothly. For information on the tennis club then please visit www.haverhilltennisclub.co.uk
Day two – Tuesday August 6th – The day started with 10U Green Mini Tennis round robin boxes and the bottom half of the 14U boy's event. Haverhill Players Keri Tobin and Luke Marsh played some excellent tennis to win their respective groups.
Thomas Pettitt gave Luke a bit of a scare in the first set with Luke narrowly winning 5-3. Thomas did beat Hugo Soons in 3 close sets to take second place in the group and played Keri in the first semi-final. Keri proved to be too strong for him winning 4-1, 4-1. Luke beat Thomas Fennel 4-0, 4-0 to set up an all Haverhill Final.
In the 3rd/4th play off Thomas Pettitt won again in 3 close sets with the penultimate point a rally of some 40 shots! Luke pulled of an amazing feat by beating Keri 4-0, 4-1 to win his 3rd successive open championship. He won the red mini in 2011, orange mini in 2012 and now green mini in 2013.
In the 14U boys Freddie Holmes (Haverhill) had 2 very impressive wins against George Shield and the higher rated Hayden Acott, to secure himself a place in Friday's final. George Shield beat Martin Booyens 7-5, 6-4 in a very tight match to make his way through to the consolation final. 18U boys also started with Tom Marsh in fine form beating Matthew Balaam 6-0, 6-2.
Harry Sendall overcame a deficit of 5-3 in the second set to eventually beat Tristram Walsh in a closely contested match. Ross Tobin had a very tough first round match against Culford's 18U champion going down 6-2, 6-2 to James Clayton. James then had to take on the vastly improved, hard hitting Brenton Matthues, but James' consistency saw him come through 6-1, 6-3 to make his way through to Friday's final.
Ross beat Alex Lightning 6-1, 6-0 to secure his place in the consolation final. The day was finished off by some exciting green doubles with the combination of Keri Tobin and Luke Marsh being too strong for the opposition.
Day 3 Wednesday August 7th – Number one seed in the 16U boys Ben Attle started the day off with a comfortable win against Stephen Boyles 6-0, 6-1. Cameron Larkin then beat the higher rated player Maxime Curdy 6-3, 6-4. Aaron Thorne beat the younger Hayden Acott 6-2, 6-2. Sam Howard (seeded 2) beat Alex Serrano 6-0, 6-0.
Sam Howard who was suffering from jet lag, found the going tough and Aaron Thorne played an inspired match to win 6-4, 6-1 to take his place in Friday's final. Ben Attle also secured his place with a fine win over Cameron winning 6-1, 6-0.
In the 18U, Tom Marsh played a great game to beat Harry Sendall 6-1, 6-2 and set up a repeat of the 18U Bury tournament final. This match took nearly 3 hours to complete, so we're all looking forward to Friday's match. Stephen Boyles then played a great match to beat the higher rated Maime Curdy 7-6, 6-4 to set up a consolation final with Hayden Acott.
16U Boys doubles started with an all-brother match. Jack and Sam Howard played Tom and Dan Marsh and after winning a very close first set the Marsh brothers won 6-4, 6-1. Cameron Larkin and Stephen Boyles played against the new partnership of Alex Serrano and Aaron Thorne, as with the first match after a close first set Cameron and Stephen won 7-5, 6-1.
Day 4 – Thursday August 8th. Top end of the 14U boys draw started this morning with a good win for the revitalised Sam Howard who beat Adam Morsman 6-0, 6-0. Stephen Newman beat Jack Krempel 6-3, 6-3, Sam Howard then beat Stephen 6-0, 6-1 to take his place in the final against Freddie Holmes on Friday.
Jack then beat Adam 6-2, 6-3 to make his way into the consolation final against George Shield. Brenton Mattheus then beat Harry Sendall 6-0, 6-4 in the 18U bronze match.
Then came the match of the day when Maxime Curdy beat Alex Serrano in a titanic game which lasted 2 hours and 25 minutes 4-6, 7-6 11-9. The final match of the day for third place in the 16U doubles was won by brothers Sam and Jack Howard.

Comment on this story
[board listing] [login] [register]
You must be logged in to post messages. (login now)