Haverhill regroup to win through
By Jim Morgan at Castle Playing Fields on Tuesday, 9th April 2013.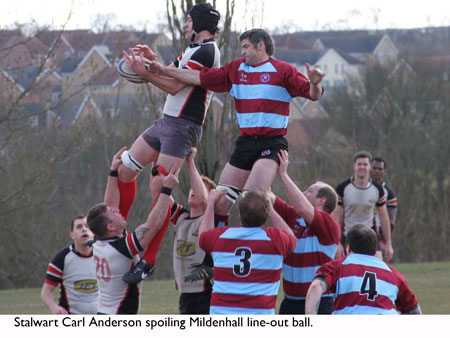 GREENE KING EASTERN COUNTIES RUGBY LEAGUE, DIVISION TWO: Haverhill 40 Mildenhall 23. Match report.
With three points on the board inside two minutes, Mildenhall ran a penalty from the halfway line on four minutes to make a big statement that they were going to boss Haverhill at will.
Six-nil down on 13 minutes, Haverhill looked distinctly rattled but finally a Jake Jeffs penalty brought the scores closer at 3-6 on 20 minutes. From the restart a great catch and drive saw George Self impressing.
The dangerous Mildenhall Fijian flanker skipped past three tackles to place the ball down over the Haverhill line for 3-11 on 30 minutes with Haverhill getting three back through a Jeffs' penalty on 35 minutes.
Good work in the scrum saw Haverhill turn over the ball and the quick thinking Ricky Brown dart over the line for 11-11 and what would be thought as the final action of the half - but until the man in the middle blows his whistle, you keep playing.
A scrum on the Haverhill ten-metre line saw Haverhill demolish Mildenhall to turn over the possession. Quick Simon Lester ball to Jeffs saw the latter kick a huge Gary Owen, chased down by the classy Adam Hunt. The bounce fell perfectly for Hunt to gather and score for 16-11 at the break.
Haverhill increased the lead on 50 minutes, when a Haverhill penalty line-out on five metres sees the ball lost. The quick-thinking Ricky Brown harassed the Mildenhall scrum half and gained a touchdown for his second try and 23-11.
A 58th minute try from a Jeffs chip-kick was disallowed as the Haverhill backs were just in front of the kicker, but the continued pressure finally saw Mickey Lansdowne cross the line for a Jeffs converted try and 30-11 on 73 minutes and on 75 minutes a penalty mde the score 33-11.
To Mildenhall's credit, they kept battling on and got a try to bring the score to 33-16.
With two minutes remaining, a Jeffs drop goal attempt fell short, with Lansdowne backing up to scoop and score under the posts for a converted try and 40-16, but Mildenhall came back and on the final play, scored a converted try for 40-23 and the final whistle.
One man went who about his business during the game in unstated fashion was number eight Chris Flannery, setting great store for others to work from. The man of the match spoils were shared this week between him and Ricky Brown.

Comment on this story
[board listing] [login] [register]
You must be logged in to post messages. (login now)