Haverhill Rovers Presentation Evening
Tuesday, 15th May 2007.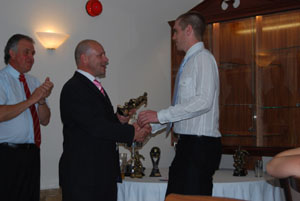 Haverhill Rovers Football Club Presentation Event took place on Friday 11th May 2007 at Haverhill Golf Club. Stars of the evening were players Amanda Everett, Marcus Hunt and Colin Vowden who picked up two awards each.
Celebrations began with reserve team manager Peter Betts thanking Dan Pilcher, Bryan Jones, "Will" Jones, Karen Smith and Kirsty Jagger for their work with the ladies side, who he complimented on reaching the First Round of the Women's F.A. Cup. Trophies were passed on to all the ladies in attendance, with Hannah Robinson also being presented with the Clubman
of the Year award, Kate Shorter with Opposition's Player, Charlotte Halls with the Manager's Merit Award, Louise Anderson with Most Improved Player and Everett with Players' Player and Manager's Player. Peter Betts stated that Amanda Everett was the best ladies player that he had worked with.
Zoe Klimke presented Betts with a plate from the side to thank him for the two years he had been manager. Chairman Steve Brown also expressed his thanks to Betts and the ladies.
Brown gave flowers to Kerri Beavis, Sandra McGerty and Smith to thank them for their work this year before presenting Keith Willis (and Dave Gooch at the match the following day) with awards for their work on the pitch.
The Chairman's Award went to media officer Steven Esdale. Club President Terry McGerty thanked the first team and the backroom staff for their continued efforts this season and awarded John Linnane with the President's Award.
Brown continued, awarding secretary Smith with the Clubman of the Year award. He praised the players for their efforts in the F.A.Cup run, which culminated in the Aldershot Town match. He then presented physiotherapist Bryan Jones with some chocolate boots to "help him get on to the field quicker during games". Brown also thanked the committee and other helpers for their efforts.
Betts then thanked "Will" Jones and Brown for their work before also complimenting first team manager Steve Taylor, Hunt, Trevor David and Paul Abbott and presenting the awards for the reserve team. Manager's Merit Award was presented to Ryan Kent, Ross Elkins just pipping Russell Palmer and Neil Hammond to receive Players' Player. Hammond took the Manager's Player award.
Brown went on to present awards to the first team. Young Player of the Year was Joe Harvey, Adam Salmons won Goal of the Season for his overhead kick in the First Division Knock Out Cup Final, Hunt was Top Goalscorer and Colin Vowden was Supporters' Player.
Taylor then "took the stand" and thanked Brown, "Will" Jones and Terry McGerty, stating that this was "the first club in 25 years that I've thoroughly enjoyed managing". He then presented the Manager's Player award to Hunt before also thanking Bryan Jones and Rob O'Tang for their physiotherapy work and presenting Colin Vowden with the Players' Player
award.
"Will" Jones stood to thank the attendees and especially thanked Taylor,the club sponsors, Paul Goodman, Brown, Terry McGerty, Smith, Willis, Gooch, Dudley Haylock, Kerri Beavis, Rhiannon Beavis, Betts, his father Bryan, O'Tang, his brother Jack, Josh Vowden, Mark Ashford and Barry Whelan for their work.
Players Dan Pilcher and Marcus Hunt presented awards to Taylor (sun tan lotion), thanking "Will" Jones, Bryan Jones and O'Tang. Richard Heller was given a trophy in cotton wool as Most Injured Player, Colin Vowden was given a DVD of "The Goonies", Martin Westcott a novelty rugby ball for training with a rugby side instead of the club by mistake when a
session was cancelled, Marc Abbott was Cheesiest Player, a fashion book went to Dan Pilcher as Worst Dressed Player and a walking stick to Neil Cogger.
Brown finally returned to the stand to show the First Division Runners Up trophy and award the players with the most appearances individual trophies for the achievement as well as Paul Abbott, "Will" Jones and Steve Taylor.
He also presented Terry McGerty with a bottle of drink to thank him for his efforts this season.
AWARD SUMMARY
LADIES
Clubman of Year - Hannah Robinson.
Opposition's Player of Year - Kate Shorter.
Manager's Merit Award - Charlotte Halls.
Most Improved Player of Year - Louise Anderson.
Players' Player of Year - Amanda Everett.
Manager's Player of Year - Amanda Everett.
MENS
Chairman's Award - Steven Esdale.
President's Award - John Linnane.
Clubman of Year - Karen Smith.
Supporters' Player of Year - Colin Vowden.
RESERVES
Manager's Merit Award - Ryan Kent.
Players' Player of Year - Ross Elkins.
Manager's Player of Year - Neil Hammond.
FIRST TEAM
Young Player of Year - Joe Harvey.
Goal of the Season - Adam Salmons (goal in First Division Knock Out Cup
Final).
Top Goalscorer - Marcus Hunt.
Manager's Player of Year - Marcus Hunt.
Players' Player of Year - Colin Vowden.

Comment on this story
[board listing] [login] [register]
You must be logged in to post messages. (login now)