Haverhill's Centre for Computing History in Open Day Triumph
Thursday, 25th September 2008.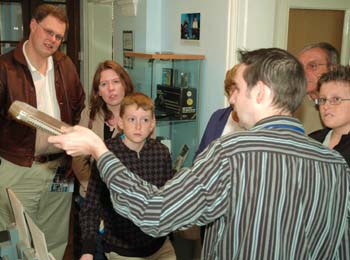 Haverhill's
Centre for Computing History
's first public opening has been hailed an outstanding success, with tickets sold out well before last weekend's event. The centre opened as part of St Edmundsbury's Heritage Weekend and guided tours of the collection took place over Saturday and and Sunday.
Lisa McGerty, secretary of the
Centre for Computing History
committee said: "This enthusiastic response to our first open day event has confirmed for us that the local community is as interested in this project as the hundreds of people from across the UK and Europe who have written to us via our website.
"People were keen to find out when we will be fully open to the public. Unfortunately, this is something we can't make possible until the centre finds a permanent home. We are grateful to Christopher Gurteen for providing an interim home at Chauntry Mills but we are now actively looking for a larger building that will allow full public access."
Aimed at everyone from children to academics, the centre's inventive multimedia approach offers visitors the opportunity to interact with many key machines.
Lisa continued: "The gaming exhibition was a great favourite offering visitors the opportunity, depending on age, to either relive the halcyon days of Pong, Pac-Man and Space Invaders or sample these vintage classics for the first time. We try to dispel the 'Shh! don't touch' preconception people have about museums and encourage visitors to get really involved."
Established to create a permanent, public exhibition that tells the story of the 'Information Age', the
Centre for Computing History
presents an internationally significant collection of computers, related artefacts, memorabilia and associated materials. The museum demonstrates the computing industry's unique contribution to the world and explores the social, historical and contemporary impact of the computer.
Chairperson, Elaine Collins explains: "One of our key aims is to engage young people in the next stage of technological evolution by encouraging them to not take computers for granted. We hope to inspire and enthuse new generations by highlighting the entrepreneurial spirit that first drove the industry forward.
"We are confident that Haverhill offers a prime location for a world class attraction of this nature. The town's proximity to Cambridge and the shared locale contribute massively to its appeal. Charles Babbage, widely regarded as the 'father of computing', read Mathematics at Trinity College, Cambridge. The city was also home to both Acorn Computers and Sinclair Research, and now provides a base for Microsoft's UK research facility.
Fellow committee member Gillian Blackmore adds: "We have been overwhelmed by the level of enthusiasm for this project from within the town and the wider area. To date, we have the support of over 20 organisations, including Samuel Ward Upper School, Haverhill Enterprise,
Haverhill Town Council
and the heritage departments of St Edmundsbury Borough Council and Suffolk County Council."
Photograph shows committee member Jason Fitzpatrick with visitors during the recent Open Day Weekend.
To find out more about the progress of the
Centre for Computing History
visit:
E-Mail Link: info@computinghistory.org.uk


Comment on this story
[board listing] [login] [register]
You must be logged in to post messages. (login now)