Haverhill's East Town Park Wins Prestigious Green Flag
Friday, 1st August 2008.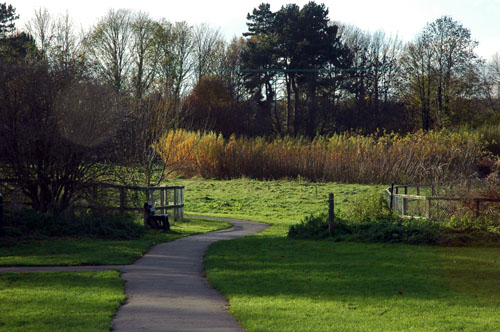 The 30-acre
East Town Park
at Haverhill has been judged one of the best in the country. The park, managed by St Edmundsbury Borough Council, has won its first Green Flag, awarded by the Civic Trust.
Green Flags were first presented in 1996 to open spaces which are well managed and have achieved high recreational and environmental standards.
Lynsey Alexander, Portfolio Holder for Culture and Sport, said: 'We are very proud to receive this national award.
East Town Park
is an attractive area where people can relax and enjoy the outdoors. The judges were impressed with the support we receive from volunteers who have helped us to make many landscape and habitat improvements, for the benefit of the whole community."
As well as features such as the wildlife pond and play area, the park is a gateway to the wider countryside, with its links to other leisure attractions including a six-mile circular route and the Stour Valley Path.
The park is a wildlife haven, attracting creatures such as slow worms, common lizards and even otters. A Countryside Centre opens at weekends selling souvenirs and refreshments.

Comment on this story
[board listing] [login] [register]
You must be logged in to post messages. (login now)