Haverhill's Genzyme Appoints local Company Gold PR
Tuesday, 10th April 2007.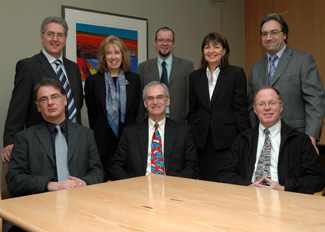 Genzyme Limited at Haverhill, a major manufacturing and distribution arm of one of the world's leading biotechnology companies Genzyme Corporation, has appointed Haverhill's Gold PR to support its current communications programme.
Simon Cousins, VP and General Manager Genzyme Haverhill Operations, explains: "We are really pleased to be able to appoint such a high quality organisation as Gold PR. Critical to us is the fact that they are local and have the skills and enthusiasm to provide us with the communication and support we need during this particularly important phase of the site's development."
Gold PR Partner Elaine Collins comments: "Gold PR is delighted to have been retained by Genzyme Haverhill to offer strategic communications counsel on a local and regional basis. There is always great excitement surrounding any new client but there is something very special for us about working with Genzyme; it brings to fruition a relationship that started with the inaugural Haverhill Business Awards three years ago.
"2007 marks the 25th anniversary of Genzyme's presence in Haverhill and we are looking forward to working with this inspirational company at a very exciting time in its history."
Founded in Boston in 1981, Genzyme Corporation has grown from a small start-up to a diversified enterprise with annual revenues exceeding $3 billion and more than 9,000 employees in locations spanning the globe. The company's products and services are focused on rare inherited disorders, kidney disease, orthopaedics, transplant and immune disease, cancer, and diagnostic testing.
Genzyme Haverhill Operations, established in 1982, is based at Haverhill on the Cambridgeshire/Suffolk border. This site is predominantly a bulk pharmaceutical manufacturing facility.
The initial focus of the Haverhill communications campaign will be to highlight and expand the company's presence and contribution within the local community and strengthen its profile across the region.

Comment on this story
[board listing] [login] [register]
You must be logged in to post messages. (login now)