Haverhill's M & M Leisure Launch New Brand & Online Shop
By Elaine Collins on Friday, 30th March 2007.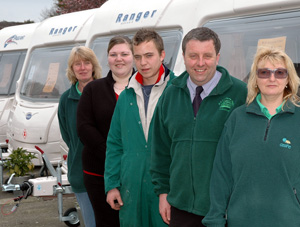 It's a fact: caravanning is back, hip and very, very cool. To celebrate, leading caravanning and camping supplier M & M Leisure of Haverhill, Suffolk recently commissioned a fresh new image and an e-commerce website.
Founded in 1978, this East Anglia based, family run enterprise is now one of the most highly regarded outdoors leisure retailers and caravanning specialists in the United Kingdom. Although the company's core business is supplying new and used Bailey touring caravans, M & M Leisure has also earned a sterling reputation in the field of caravan servicing and repairs through operating one of the few industry-approved workshops in the country.
The outdoors leisure industry is rapidly expanding and M & M Leisure has always endeavoured to stay one step ahead. As well as caravans, they stock an extensive range of camping and caravanning accessories and equipment including tents, awnings, electrical items, chemicals, barbecues and gas. Until this year the company's products were only available at their large retail outlet in Haverhill. But now that's all changed.
M & M Leisure's Managing Director Graham Bashford explains: "Our decision to venture online as part of our re-branding initiative has been largely influenced by the needs and expectations of our customers. We are witnessing meteoric changes in the retail market resulting from the growing trend towards browsing the net. As well as providing an online shop 24/7, our new website acts as a virtual showroom for our caravans. It also offers us far greater scope to extend and develop our product range. Point of fact, we are about to move into the motorhome market and the site will provide the perfect platform for this new area of business."
Interest in trailer caravans and motorhomes has soared since the millennium. Caravanning is booming and recent figures indicate that it's now the UK's most popular form of domestic tourism, accounting for one fifth of all holidays taken in Britain. In 2006 around 10,000 new motor homes were registered here and more people joined the Caravan Club than ever before in its 100 year history.
Just like Toad from Wind in the Willows, who on viewing his yellow caravan rapturously exclaims: "The open road, the dusty highway, the heath, the common, the rolling downs! Here today, and off somewhere else tomorrow!" a whole new generation is falling for the charms and independence of a holiday on wheels. High profile enthusiasts include Kate Moss, Jenson Button, Jamie Oliver, Kylie Minogue, Jay Kay and Wayne Hemingway, head of fashion label Red or Dead.
With caravanning busy reinventing itself and stepping back into the spotlight, Haverhill's M & M Leisure felt a fresh image was timely and appropriate. After exploring the options, digital communications company
Pure Energy Multimedia
were commissioned to design a new look and create a viable online presence.
"It made sense for us to choose a company that could offer a full service, from brand makeover through to the right type of website," Graham says. "The guys at Pure Energy are commercially led as much as they are technically or design led. This factor really makes the difference. They fully appreciated our goals, offered sound, practical advice and delivered gilt-edged solutions."
M & M Leisure's new brand is lively and eye-catching. The logo – a retro-chic rendering of the traditional caravan shape with its sweeping organic lines - is a celebration of the industry's heritage with a contemporary twist.
Pure Energy's Managing Director, Jason Fitzpatrick describes the brief: "M & M Leisure wanted an image that was relevant, quintessential and engaging. We have taken simplicity as our keynote in creating an identity that directly references the iconic appeal of the caravan. The hint of forward movement in the logo reflects the buoyancy of the industry and the vitality and spirited direction of Graham and his team."
Graham confirms: "We love our new brand. But it's the website that's really dazzled us with its performance. As well as acting as an information hub, carrying industry news, advice and updates, it's a brilliant showcase, has great search engine ratings and has generated some staggering sales results. Feedback from both our regular and new customers couldn't be more positive.
"Our new brand and online shop have enabled M & M Leisure to take a major step forward into the 21st century, reinforced our position within the industry and given us a powerful platform for future growth."
E-Mail Link: info@mmleisure.co.uk


Comment on this story
[board listing] [login] [register]
You must be logged in to post messages. (login now)