Haverhill's Machinepart Engineering Wins Barclays Business Award
Tuesday, 30th January 2007.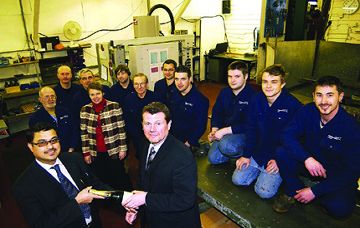 Machinepart Engineering of Haverhill has won Barclays Business of the Month Award...
Managing Director, Robert Haylock established Machinepart Engineering 16 years ago and the company now employs 16 staff to equal every year it's been in business. Robert firmly believes the success of Machinepart is all due to the hard work and efforts of his dedicated workforce. Winning Barclays Business Award is yet another achievement for his committed and highly skilled team.
Machinepart Engineering produces various components to the highest quality for use in a variety of industries, including aerospace, communications, biotech and food process machinery sectors. Machinepart provides accurate, fast turnaround from prototype to production quantities of component parts.
Based in Haverhill on the borders of Suffolk, Essex and Cambridgeshire, Machinepart is ideally situated geographically and has established a wide customer base throughout the south-east.
Keen to promote learning, Machinepart Engineering has formed an alliance with local schools and colleges, offering students the opportunity to gain practical experience of working in a busy machine shop. Students find this invaluable as it presents them with an insight into the world of work, demonstrating how what they do matters and has meaning, while communicating the realities of a manufacturing environment.
Use of computer-aided design and computer-aided machining software packages enables Machinepart Engineering to work closely with its clients to produce intricate prototypes or standard stock items with speed and precision.
Robert explains: "At Machinepart Engineering we embrace the latest technologies and fully appreciate that if we wish to be progressive and remain competitive investment in this area must be ongoing.
Always pursuing the latest innovative technology, Machinepart is about to purchase a water jet cutting machine. This process allows a wide range of materials to be precision cut with the use of the latest computer-aided profiling software. Foam, wood, fabric, glass, ceramics, plastics and metals can all be profiled to fine tolerances up to a thickness of 200 mm [8"]. Robert is currently learning the capabilities of this machine and recognises its potential to move the company into a new set of business sectors.
"Above all else, we are committed to training our team," Robert confirms. "We invest in a comprehensive training programme encouraging everyone to find and reach their full potential, thereby increasing both their personal knowledge and self-esteem."
Machinepart Engineering optimises materials, technology and craftsmanship to deliver engineering solutions.
E-Mail Link: enquiries@machinepartengineering.com


Comment on this story
[board listing] [login] [register]
You must be logged in to post messages. (login now)