Haverhill's Parkway Picks Up Prize
Monday, 20th November 2006.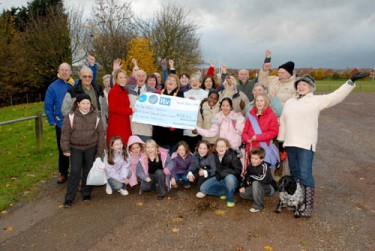 The Parkway Community Group in Haverhill is celebrating this week after beating stiff competition to win a televised battle for a windfall of lottery cash.
Parkway Community Association were handed £58,313 of Big Lottery Fund money on Friday, which will be used to dramatically improve Haverhill's Castle Playing Fields. The group won the cash after details of the Angles Return project were shown on the People's Millions section of ITV's Anglia News. The public were asked to vote for their favourite scheme, and the Parkway Community Association were handed a cheque after becoming the highest placed runner-up.
With the support of St Edmundsbury, the association will now use the cash to extend the Castle Playing Fields fish pond, know locally as the Newt Pond. The area around the pond will also be tidied, facilities for fishing will be improved and new landscaping and shrubs will be planted. A dedicated wildlife area will also be created. Material dug up to create the extra pond capacity will be recycled to create a terraced "amphitheatre" which can be used as an outside classroom and educational tool for children from the three schools which border the park. It is hoped the project will encourage more people to use the playing fields for recreation.
Cllr Sara Mildmay-White, Portfolio Holder for Resources and Community Development on St Edmundsbury Borough Council, said:
"We are absolutely delighted that the Parkway Community Association has been successful in securing this funding. We look forward to helping the group make sure their ambitions for this exciting project are realised which will, in turn, transform the area and have a major impact on the local community."

Comment on this story
[board listing] [login] [register]
You must be logged in to post messages. (login now)