Haverhill's Pure Energy Celebrates a Landmark Year…
Sunday, 12th March 2006.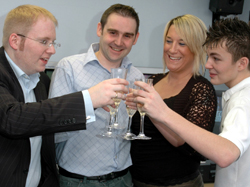 The team behind
Pure Energy Multimedia
, the Haverhill based, web design and software development company, have a lot to celebrate at the moment. In fact, they could be forgiven for feeling their feet scarcely touched the ground at the end of last year. Not only did the company launch its new product SiteWise, a web content management system, it also attracted an unprecedented number of commissions from across the region.
The development of SiteWise has created a remarkable period of growth for Pure Energy. As well as adding names like Suffolk Glass, Taylor's Foundry, Felixstowe Chamber of Commerce and recruitment specialists, IQ recruitment of Ipswich to its existing portfolio of home business during 2005, the company has also successfully expanded its client base to include many more businesses and organisations from beyond the East of England.
The team have recently completed exacting and very disparate commissions for EyeWitness, the Events and PR photo specialists in London, the National Federation of Fish Friers and Winmau, the world's leading manufacturer of dartboards. Simon Hall, Marketing Manager at Winmau, describes
Pure Energy Multimedia
as, " … one of our best and most trustworthy suppliers." They are currently working on websites for, amongst others, Laser Essex of Romford and Amet Europe, an international engineering company providing precision welding equipment to worldwide customers like Boeing and GEC.
Since 1997, Pure Energy has provided a broad range of multimedia services with a focus on building well-designed websites that are accessible, flexible and above all functional. In addition to standard websites, Pure Energy has also been busy developing software for the Internet, including e-commerce solutions for businesses both local and further a field. In a relatively short space of time, the company has established itself in what is a very competitive market and earned a reputation for innovative and extensive web expertise. They are fast on their feet and unfussy in their approach.
Jason Fitzpatrick, managing director and the dynamic leadership force behind Pure Energy explains:
"Most of our business comes from word of mouth so it's great to know we are getting it right. Of course, the importance of gaining a web presence has increased for companies both large and small and this can put extra pressure on business people. What we enjoy is helping all our clients maximise the full potential of their websites and the Internet in a cost effective and efficient manner and through our hosting and email facilities we equip them to operate in a trusted and familiar environment."
Pure Energy's constant quest to improve the flexibility and practical aspects of its services lead to the in-house development of the SiteWise software. This is a user-friendly content management system that allows users to edit and update their websites instantly. No technical knowledge is required. The system is simple to use and intuitive, which helps to encourage autonomy and confidence. It also extends the options in the creation and administration of a website.
It was these qualities that convinced Felixstowe Chamber of Commerce they had finally found the right technical company to build their new website. The brief required the site to be easily updated, versatile and accessible. SiteWise is proficient in all these aspects and its integration into the site design allows the chamber team to exercise complete control.
Stephen Robbins, Managing Director of Ipswich based IQ Recruitment, is another satisfied customer. He describes the Pure Energy team as, "…fast, responsive and willing to answer every possible question we could throw
at them."
Steve Bryant, Pure Energy's Web Design Manager, explains:
"IQ's website is a good example of many of the projects we have undertaken. The old site was static and looked tired. We worked with what was already there, engineered a face-lift and integrated our own recruitment content management system, JobWise, which is part of the SiteWise suite of products. IQ's staff are able to maintain and edit key areas of the site without any previous technical knowledge, which in turn will eliminate costs involved with third party updates."
IQ Recruitment now feel they possess an extremely manageable website with the bonus of highly effective Search Engine Optimisation, which has lead to significant and measurable improvements in traffic.
The resourcefulness and technological talents of
Pure Energy Multimedia
seem almost endless. They have used their creativity in numerous ways, most notably last year through their close involvement in the organisation of the inaugural Haverhill Business Awards 2005. They were largely responsible for the breathtaking technical wizardry witnessed throughout the entire awards ceremony. As well as designing the Business Award trophy, the team created the compelling big screen video presentation, which contributed so much drama to the occasion, produced the soundtrack for the event, and also wrote the fanfare, which preceded the announcement of the winner in each category.
Haverhill's town mayor, Tim Marks, commented at the time:
"You have certainly revolutionised the concept of Chambers of Commerce with this impressive and sparkling event that was very much state of the art and 21st century."
Amidst all of these well-deserved and glowing references, Jason Fitzpatrick remains self-effacing:
"There are other web companies who can do what we do. Perhaps the difference is our refusal to compromise our standards of customer service. We will always offer the best solution and we only ever promise what is possible. Integrity, project deliverability and client needs are paramount.
"The web offers a glittering realm of possibilities for business large and small. We are able to advise on the best course to follow to reap those benefits. Our vision is to empower our clients."
Next year Pure Energy celebrates its tenth anniversary. When the company was formed in 1997 the Internet was just beginning to gain a foothold. In the intervening years the world has changed and the web has become an indispensable component in the success of any business. It's evident the company embraces the concept that the boundaries of knowledge management and technology are limitless. It has no intention of standing still. What's more they possess a technological expertise, a creative flair for innovation in commerce and a focus on customer service that has gained them an outstanding reputation for quality and excellence.
2005 was indeed a landmark year for Pure Energy. In many ways it can be viewed as the end of the beginning. As an enterprise now consolidating its presence in the region - which itself is buoyant with business opportunities – the possibilities for this small but vigorous company are stellar. Watch them rise…
As featured in the East Anglia Daily Times Suffolk Business Magazine: Words By Elaine Collins, Gold PR
elaine@goldpr.co.uk
For further information contact:
Pure Energy Multimedia
Tel: 01440 709794
Email: info@pureenergymultimedia.com
www.pureenergymultimedia.com
Elaine Collins
Gold PR
elaine@goldpr.co.uk

Comment on this story
[board listing] [login] [register]
You must be logged in to post messages. (login now)