Haverhill students's role in countywide anti-drug project
Tuesday, 24th May 2011.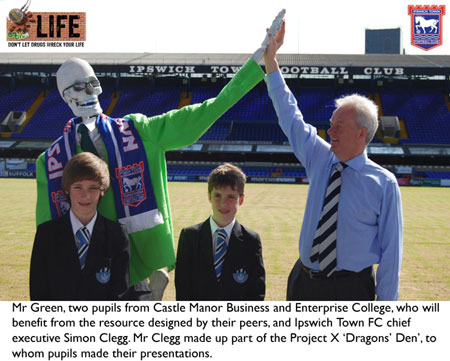 Pupils from Castle Manor college in Haverhill have been closely involved in drawing up a new countywide resource to tackle drug and alcohol misuse.
The new teaching resource, aimed at provoking discussion among young people about substance misuse, is being launched at Suffolk police HQ tomorrow.
The evening will be a culmination of work by Suffolk Constabulary, Suffolk Drug and Alcohol Action Team (DAAT), Castle Manor Business and Enterprise College and East Coast Productions following a competition held in late 2009 called Project X.
It will see a number of speakers from partner agencies, a demonstration of the resource and a guest appearance from England international hockey player Harry Martin.
Project X challenged children across Suffolk to design a logo and create a strap-line, which would be immediately recognised as part of Suffolk's campaign to tackle drugs.
Pupils from Castle Manor produced the winning design of Don't Let Drugs Wreck Your Life, which shows a wrecking ball swinging into a wall with the word 'Life' written on. It is being used by all partner agencies in the county as part of a countywide drugs awareness campaign.
Following the success of Project X a decision was made to develop the campaign further and design an interactive teaching resource that could be used to stimulate debate in the young people around substance misuse.
The idea of the bricks and 'Life' wall was developed into a set of Jenga-style blocks, again with the word 'Life' written down the side.
On individual blocks are discussion topics such as relationships and health. The tower demonstrates that if these things are taken away, it becomes a less strong and safe structure.
East Coast Productions, with the help of the partner agencies, have produced two DVDs to accompany the 'Life' blocks. The first is an instructional DVD and the second is an 18-minute programme about drug misuse, which is split into segments suitable for a class of ten to 12-year-olds and 12s plus.
The DVD is presented by Mr Green, a character in the form of a live skeleton, who has been devised to support the entire campaign. It includes pupils from Deben High School in Felixstowe acting out scenarios young people may find themselves in and has specified points at which the programme should be stopped so students can discuss what they have seen.
The resource as a whole is due to be distributed to all secondary schools in Suffolk in the upcoming months and the launch comes just weeks before Recovery Month which is being held during June.
Recovery Month is an opportunity for local drug users, service users and ex-users and others to get together to celebrate recovery, with this project it is hoped the number of people requiring recovery from substance misuse will be reduced.
Det Ch Insp Steve Mattin, the drugs lead for Suffolk Constabulary, said: "This has been an exciting opportunity for young people to influence the way in which substance misuse is viewed and perceived by their own peer groups.
"This resource is provided in order to provoke discussion around all aspects of what forms substance misuse can take and what effects those have on young people and the wider community as a whole.
"This project has been an excellent example of partnership working in order to bring together resources in an educational and preventative way in order to deal with the issues surrounding substance misuse in a way that looks at the issues and offers guidance and advice in a way that compliments other recourse material that is already available."
Nigel Dixon, creative director of East Coast Productions, added: "Throughout the production of this resource it has been important to us to engage young people in assisting with the design, stylising and content.
"This has enabled us and the wider project group to create a level of engagement with direct appeal across the age ranges to facilitate and stimulate further debate surrounding the importance of informed choice among students and those around them.
"We found young peoples' concerns around drug issues to be highly important to them and the value of positive peer mentoring to be key in helping them to make informed, positive choices regarding drug misuse.
"The value of their input and views expressed within the film, and those of the professionals featured, cannot be overstated and will engage others in a highly relevant and memorable way."
Simon Aalders, coordinator Suffolk DAAT, hopes the resource can have an impact for years to come.
"Suffolk DAAT is very pleased to have been involved in the Don't Let Drugs Wreck Your Life project," he said, "the culmination of the project being developed being this excellent interactive and thought-provoking resource for schools across the county.
"The different elements of the resource offer pupils and teachers the opportunity to explore a wide variety of issues facing Suffolk's young people today, in a classroom environment.
"We hope that schools take up this opportunity, using this teaching resource, as often as possible and for many years to come, and that Suffolk's young people benefit from this and are able to make good, informed choices as a result of this opportunity."

Comment on this story
[board listing] [login] [register]
You must be logged in to post messages. (login now)