Haverhill-UK Gets a Revamp
By Elaine Collins on Monday, 11th December 2006.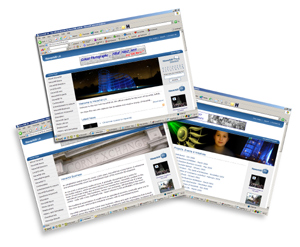 One of the first town sites in the UK, Haverhill-UK attracts over 7,000 unique visitors per month, has won numerous awards and is much admired as a community, business and genealogical resource. Now Haverhill-UK has stepped back into the spotlight with a fresh new face and a whole host of exciting new features.
Working in partnership with the town council, Haverhill's
Pure Energy Multimedia
first created Haverhill-UK in 1999 as their contribution to the local community. Returning to the project seven years later, they have pulled out all the stops.
Eye-catching simplicity is the keynote of the new look. But it's deceptive. There's nothing simple about the technology under-pinning this second-generation site. Its curved edges conform to today's techno-organic design pulse and its interactive elements reflect the ideology of Web 2.0. Built using Pure Energy's own content management system, SiteWise, it can be updated in the blink of an eye.
Jason Fitzpatrick, MD of Pure Energy describes the project: "We rarely get a chance to focus on our own websites, so despite the hard work this was a labour of love. It was a real pleasure and indulgence to be able to revisit the Haverhill-UK site and bring it in line with contemporary expectations.
"One of the major concerns of the project was the reorganisation of the massive amounts of data on the old site. It contains over 3,800 pages. But with the enhanced search facility, it's now possible to search web pages, seven years of archived news and the Haverhill Directory all in one go!"
Haverhill's iconic laser-lit sculpture, '
Spirit of Enterprise
' positioned at the western access to the town, appears on the Home Page. But this is no mere photograph. As you might expect from a company that trails a reputation for technical brilliance, it's really rather special. The work of Pure Energy's Stuart Connolly, the image is an animated, computer generated 3D model which delicately recreates and perpetuates the moment the sculpture is bathed in blue light as night falls, fading away again into the dawn.
Transformation is a theme that threads its way through the entire site.
Jason explains: "Haverhill is a town in transition. There is a strong sense that the whole area is undergoing sweeping changes and the town is being thrust more and more into the spotlight. We hope to contribute to this buoyancy, optimism and impetus through Haverhill-UK's unique ability to position the town on the world stage."
There is a dynamism and creative energy in Haverhill at the moment that is hard to miss. A new
Haverhill Brand
for the town was launched last spring and Haverhill-UK carries the marque within its design.
Jason continues: " Haverhill-UK is a very powerful information portal. In Internet terms it has a long history. This factor, as well as the vast amount of data relating to Haverhill, contributes enormously to its Google listing. The site has a history that cannot be replicated overnight. This force can be unleashed to work very effectively for Haverhill, its business and its people. The web really does have an almost magical immediacy that defies challenge."
Needless to say, the new site has already attracted a lot of attention.
Local businessman, Geoff Carter of Suffolk Insurance said: "Pure Energy had the foresight and initiative to develop Haverhill-UK back in the 1990s. They anticipated the future and ensured Haverhill has one of the strongest web presences of any community in East Anglia. It's a fantastic showcase for the town."
Terry McGerty of Printwise Haverhill echoes his words: "A sophisticated and efficient web profile is absolutely essential in the modern world. Haverhill has it in Haverhill-UK."
This is the first phase of the project and more changes and innovation are promised.
Haverhill-UK welcomes the opportunity to work in partnership with other stakeholders in the town, including cultural organisations, communities, public organisations, creative industries, artists, schools and businesses.
Haverhill-UK is not politically or financially motivated and remains an independent organisation. It is not - and never has been - in receipt of public funds.
© Gold PR
E-Mail Link: info@goldpr.co.uk


Comment on this story
[board listing] [login] [register]
You must be logged in to post messages. (login now)