Haverhill will have fire cover-pledge
Wednesday, 13th November 2002.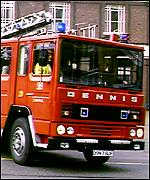 HAVERHILL will have fire cover despite the strike, which was due to start last night.
But Firefighters based at the town's station were still uncertain yesterday about exactly who will be providing it.
The fire station is crewed by 12 full-time Firefighters and 14 retained crew, but it is thought to be unique in Suffolk in that only two of them belong to the Fire Brigades Union (FBU), the others belonging to no union at all.
Section Officer Andy Nunn, the officer in charge at Haverhill, said they were awaiting instructions from management about whether they were expected to work normally and cross picket lines or not.
"The station will be crewed in some shape or form, whether it is just retained cover through the night or a whole time presence during the day. The station will be open and it could be working virtually as normal".
"We are waiting for management to make a decision about whether people are asked to cross picket lines, we are expecting that there will be a picket line at Haverhill Thursday. We are in a fairly unique position here and we are not absolutely sure what will happen yet," Mr Nunn said.
A spokesman for Suffolk County Council said Suffolk would be covered by eight 'Green Goddess' engines during the 48-hour dispute, with Bury St Edmunds, 18 miles away, the nearest to Haverhill.
Clare and Wickhambrook fire stations are entirely crewed by retained Firefighters and expected to be open as normal.
The strike was due to go ahead last night after leaders of the Fire Brigades Union (FBU) were not given the improved pay offer they had been seeking. The union had rejected the findings of an independent review, which recommended an 11 per cent pay rise over two years, linked to changes in working practices.
A further three strikes lasting 8 days each are planned over the coming few weeks should the government not increase their pay offer or involve the FBU in further constructive discussion.

Comment on this story
[board listing] [login] [register]
You must be logged in to post messages. (login now)