Haverhill woman urges fellow tenants to join Havebury panel
Wednesday, 4th May 2011.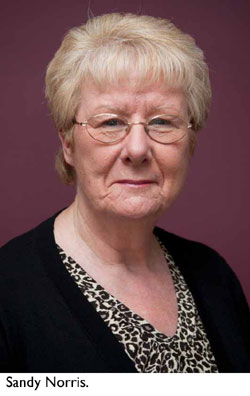 Havebury Housing Partnership tenants are being urged to join a new panel to help spend £300,000 on improving the areas in which they live.
Sandra Norris, chair of Havebury's tenants' forum, is calling on fellow tenants in the St Edmundsbury area to join the newly formed Neighbourhood Investment Panel.
Mrs Norris, 67, who lives in Haverhill, explained that £250,000 will be spent on estate improvements, with £50,000 set aside for community initiatives.
"We will allocate money to large and small projects, which could be communal garden improvements, play area developments or village hall refurbishments, for example,".
"I know I wanted to give something back to Haverhill when I retired and to Havebury in particular which really goes out of its way for its tenants and the local community. Hopefully lots of tenants will feel the same way and give their time to the Neighbourhood Investment Panel."
The panel will be made up of six tenants and four independent representatives from partners such as the police and the borough council.
It has been formed through the combination of the Community Investment Fund and the Havebury Improving Places Group, between which nearly £165,000 was spent in the last financial year on projects including a boat for disabled children and equipment for a karate club.
Charlotte Carter, Havebury's stronger communities adviser, said: "We'd like to hear from any of our tenants who would like to join our panel.
"We're looking for people with experience of working with others and community involvement, or perhaps volunteering with younger or older people. They will need to attend at least four meetings a year and we'll provide training and pay expenses such as child care and travel."
If you are interested in joining the Neighbourhood Investment Panel, contact Charlotte on 01284 722035 for an informal chat.

Comment on this story
[board listing] [login] [register]
You must be logged in to post messages. (login now)