Haverhill wows the Queen's representative
Thursday, 26th November 2009.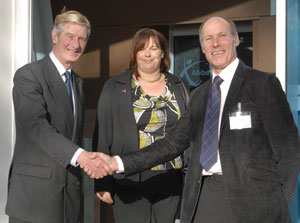 The Lord-Lieutenant of Suffolk, Lord Tollemache, recently paid his first visit to Haverhill - and was surprised at what he found.
In a day that was organised and hosted by the Haverhill Chamber of Commerce, Lord Tollemache, who is the Queen's personal representative in the county, experienced firsthand the enterprising spirit that dominates the town.
The day began at the business and training centre at Castle Manor Business and Enterprise College.
Lord Tollemache participated in a lesson on the theory and practice of production methods that was being delivered by members of the Haverhill Young Chamber, comprising students from both Castle Manor college and Samuel Ward Arts and Technology College, to year seven pupils from Castle Hill Middle School.
The objective of the lesson was to teach pupils about different production methods so that they could produce a fictional product using stickle bricks. During the exercise the pupils learnt about leadership, team work and time management.
Lord Tollemache was involved in the lesson, engaging with the students, and he was impressed with their enthusiasm and eloquence.
From Castle Manor Lord Tollemache visited Mansol (Preforms) Ltd, winners of the Export Achievement Award and Business of the Year Award at the Haverhill Chamber CB9 Business Awards 2008.
The company, based in Hollands Road, is the largest and most experienced manufacturer of sintered glass products in Europe.
Managing director Derek Cherry said: "We were delighted to welcome Lord Tollemache to Mansol Preforms. He showed a genuine interest in our export achievements and encouraged us to build on our success in the CB9 Business Awards by entering a national award.
"Our export business, particularly in India and China, has helped the company to weather the recession. We would recommend exporting to any company who wish to strengthen their business and access new markets."
Taylors Foundry, a long established Haverhill business involved in the casting of a wide range of metals, were also pleased to open their doors to Lord Tollemache.
The company has just won a large order for hand cast pipe work, known as centralisers, to be used in the oil industry. Lord Tollemache was able to see a centraliser being cast.
Gerry Taylor, managing director of Taylors Foundry, said: "It was great to be able to show off our casting capabilities to Lord Tollemache. We work in a very traditional industry and I guess to the outside world it is not particularly glamorous!
"The centralisers we are producing will be placed in the earth's crust which I think is quite exciting! It is encouraging that people from outside Haverhill are now starting to take notice of our enterprising town. Lord Tollemache's visit was a very positive event for Haverhill."
The final stop before lunch was Delstar Engineering Ltd who specialise in the design, manufacture, installation and maintenance of stage engineering and stage rigging equipment for use in theatres and television studios.
Lord Tollemache discovered that he had seen several of the shows that Delstar had produced the stage settings for.
After a very well attended lunch reception at the recently refurbished Haverhill
Leisure Centre
Lord Tollemache continued with his tour.
He visited lithographic and digital print company Printwise, based in Homefield Road. Lord Tollemache was impressed by the level of investment that had been made in the latest printing equipment.
The final stop of the day was at Genzyme, one of Haverhill's largest and most successful companies.
Sarah Howard, chairman of the Haverhill Chamber, escorted Lord Tollemache throughout the day. Sarah said: "This was a fantastic opportunity to showcase Haverhill to a very prominent and active figure within the county.
"Lord Tollemache could not believe what Haverhill has to offer. He was really impressed with the diversity of our industry, the way local businesses interact with the wider community and the close working relationship we have developed with St Edmundsbury Borough Council, working with them to take the town forward.
"He understood exactly what the Chamber and the other stakeholders in the town are trying to achieve. We are working together to raise the profile of the town; encourage inward investment from a diversity of industries; strengthen our retail offer; and facilitate growth and economic prosperity for our existing businesses.
"Perhaps our aspirations are high but the fact is we are the fastest-growing town in Suffolk and we did manage to impress the Lord-Lieutenant of Suffolk, so maybe it's not just pie in the sky!"
If you would like any further information on the Haverhill Chamber of Commerce please call Kate Anstee on 01799 668132 or email kate@timefinderagency.co.uk.
* Our picture, taken by David Doughty, shows Lord Tollemache, left, being welcomed to Haverhill
Leisure Centre
by Sarah Howard, chairman of Haverhill Chamber of Commerce, and Brian Jones, chairman of Abbeycroft Leisure.

Comment on this story
[board listing] [login] [register]
You must be logged in to post messages. (login now)