Henderson Close pioneers new Street Watch scheme
Tuesday, 13th December 2011.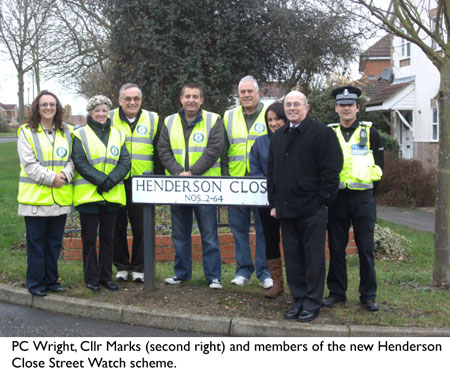 A new scheme to tackle anti-social behaviour was launched in Haverhill last week.
PC Will Wright has been working with Simon Wright, a resident of Henderson Close, over the last six months to bring Street Watch to Haverhill.
Street Watch is a national police and community partnership initiative that empowers communities to take back ownership of their public spaces through high visibility civilian patrols and good citizenship.
It operates as the only fully regulated model for civilian street patrols involving the whole community that exists in the UK.
Street Watch is regulated by a constitution, operating guidance, codes of conduct, risk assessments and all members are police vetted. It is covered by full public liability and accident/injury insurance. The national model has been fully developed in consultation with three police forces.
The aim of Street Watch is to engage and reduce the level of perceived anti-social behaviour in communities.
PC Wright said: "I am very excited about this scheme being implemented in Haverhill".
He said he wanted to thank all the residents in Henderson Close who had taken the scheme and made it their own. Street Watch is also working closely with Neighbourhood Watch in Henderson Close to make a safer community.
The first Street Watch in Haverhill has been funded and supported by Cllr Tim Marks, who has been a big support during the process,PC Wrght said.
Cllr Marks, who chairs the town's Safer Neighbourhood Team forum, said: "Street Watch is an excellent idea. I see it as a supplement to provide support to local communities working in partnership with the local Police in Haverhill.
"I see this as the big society in action and most of all it has been a pleasure to see how much public spirit there is in Haverhill."
Insp Sarah Shrubshall, the lead officer for Street Watch in Suffolk, said: "Street Watch is a fantastic scheme and I knew it would appeal to the existing communities we have in Suffolk who are passionate about the quality of life where they live and work.
"It is a chance for residents to work in partnership with police to enhance that sense of community spirit.
"This is a fantastic addition to all of the other Street Watch schemes already in place in Suffolk and shows how volunteers continue to embrace the community spirit that is associated with Street Watch schemes up and down the country."
Simon Wright, the chairman of Street Watch in Henderson Close, said: "I became involved in Street Watch because I believe it allows residents to participate actively in their local community.
"It is about re-inforcing the community spirit that already exists. This is a great way for people to better get to know each other and help each other out, including the more vulnerable in our community.
"It is not about replacing the police and other agencies in our communities, but to work alongside them, to provide re-assurance and also help them to provide a more directed approach to resolution of issues that may arise.
"I believe that Haverhill is a good place to live and if those that are able to spare a couple of hours a month to get involved in a scheme like Street Watch consider doing so, the whole community will benefit greatly."
Haverhill sector commander Insp Peter Ferrie said: "Having just taken up the inspector's post in Haverhill I've come at an exciting time, with the town really moving forward as a great place to live and work.
"I think the idea behind Street Watch is fantastic, providing an excellent service for the residents of Haverhill. I fully support Street Watch and hope to see more schemes set up across Haverhill in the future."
PC Wright added: "I would like to make an additional appeal to the wider community in Haverhill.
"If you would like to know more about Street Watch, please visit www.street-watch.org.uk or call PC Will Wright on 01284 774100 who will be more than happy to discuss implementation of Street Watch in your area."

Comment on this story
[board listing] [login] [register]
You must be logged in to post messages. (login now)