Herberts receive top safety accreditation
Monday, 26th March 2012.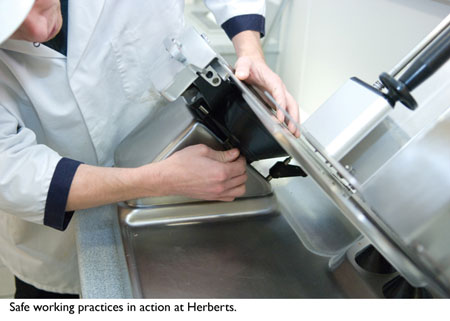 Herbert Group has been recognised for its high standards of health and safety practice in the workplace by a leading-edge scheme, designed to help industry improve its safety record.
The Haverhill-based firm has received accreditation from SAFEcontractor, a programme which recognises very high standards of health and safety practice among UK contractors.
Employing 180 people, Herbert Group is an established provider of class-leading technology-based solutions to major organisations in fast-moving industries in the UK.
Focused on business improvement, their solutions are designed to increase productivity and provide clients with the competitive edge.
Partnered with pioneering technology leaders from around the globe, Herbert Group deliver end-to-end solutions implemented through their nationwide network of specialist installation, 24/7 servicing, support and repair services.
Among their clients are major brands, including Tesco, Marks and Spencer, Royal Mail, Sainsbury's, Morrisons, Greggs the Bakers, Jessops, and Lookers.
Nicholas Brierley, 0perations director at Herbert Group, said: "The SAFEContractor Accreditation is really important for us to hold to enable us to continue to undertake work with some of our major clients.
"Increasingly, as it is a nationally recognised accreditation, it is an indication to potential new customer of our working practices and is a potential differentiator when we are tendering for new contracts."
SAFEcontractor accreditation will enhance the company's ability to attract new contracts and its commitment to safety will be viewed positively by its insurers when the company liability policy is up for renewal.
SAFEcontractor is applicable to most sectors although it is particularly relevant to food manufacture, property, facilities management, retail and leisure sectors, all of which are big users of contract services.
John Kinge, head of risk at SAFEcontractor, said: "Major organisations can no longer run the risk of employing contractors who are not able to prove that they have sound health and safety policies.
"More companies need to understand the importance of adopting good risk management in the way that Herbert Group has done. The firm's high standard has set an example, which hopefully will be followed by other companies within the sector."
Under the SAFEcontractor system, businesses undergo a vetting process, which examines health and safety procedures and their track record for safe practice.
Those companies meeting the high standard are included on a database, which is accessible to registered users only via a website, www.safecontractor.com
Employer-organisations who sign up to the scheme can access the database, enabling them to vet potential contractors before they even set foot on site.
These employers agree that, as users of the scheme, they will engage only those who have received accreditation.
Over 150 major nation-wide businesses, from several key sectors, have signed up to use the scheme when selecting contractors for services such as building, cleaning, maintenance, refurbishment or electrical and mechanical work.

Comment on this story
[board listing] [login] [register]
You must be logged in to post messages. (login now)