History groups help identify South African connection
Monday, 9th July 2012.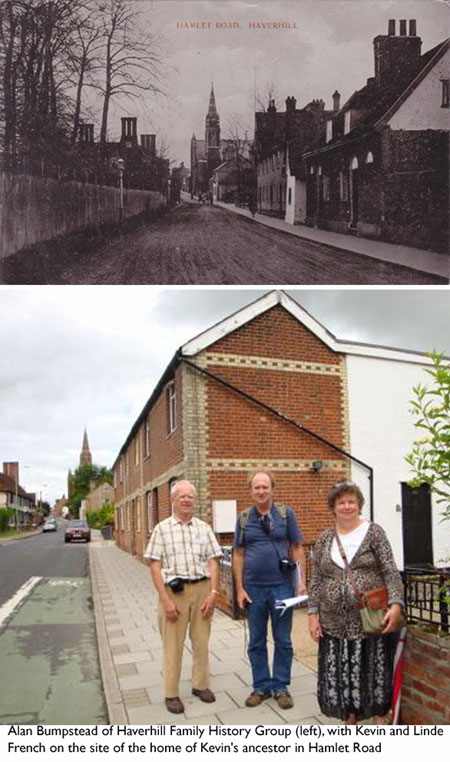 Kevin French, whose family had journeyed 6,000 miles to the Kimberly diamond mines in South Africa 150 years ago, returned to search for his family 'roots' in Haverhill and has struck gold.
Members of Haverhill Family and Local History Groups had searched the records and were able to give Kevin and his wife Linde a guided tour of his family's connections with Haverhill and Sturmer.
They gave Kevin a map and an old postcard showing where his great-great-great-grandparents, Thomas and Ann French, had lived in Hamlet Road and took him to the very spot where the house had stood.
A visit was made to St Mary's Church in Haverhill, where Thomas and Ann married in 1819 and their 14 children were baptised, and also to the cemetery, where family were buried including Thomas, who died in the workhouse, aged 86.
As a surprise 'bonus' Kevin's family tree was taken back another generation when they visited St Mary's Church, Sturmer, and saw the entry in the church registers for Thomas's baptism in 1797 and also his parents' marriage there that same year.
Kevin would still like to know if there is anyone in the area with FRENCH family connections.
If you might be able to help or would like to know more about tracing your own family history, contact Alan Bumpstead of the Haverhill Family History Group, on (01440) 704157 or haverhill@suffolkfhs.org.uk
Free help sessions are held at the library every Wednesday afternoon at 2pm. Just contact the library (01440) 702638 to book your place.

Comment on this story
[board listing] [login] [register]
You must be logged in to post messages. (login now)