Housing partnership celebrates family fun day success
Monday, 27th September 2010.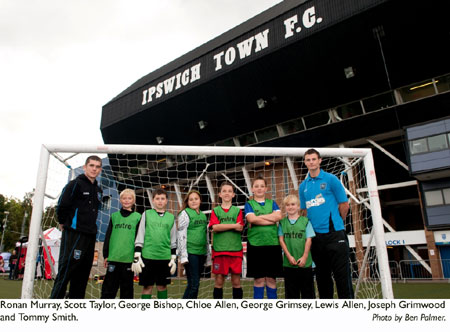 Children and their parents enjoyed a range of healthy activities at Havebury Housing Partnership's first family day – with a special appearance from two Ipswich Town football players.
Ronan Murray and Tommy Smith joined in the fun at Portman Road, which was arranged by the affordable homes provider in partnership with ITFC Charitable Trust.
As well as a mini-football tournament, visitors were invited to board the Healthy Ambitions Suffolk double-decker bus where they could take part in Nintendo Wii Fit games, sample delicious smoothies and learn about healthy lifestyles.
Havebury's resident involvement advisor Ellie Darling said: "There was also age progression computer software which shows you what you will look like in 30 years' time if you smoke, have an unhealthy diet or don't wear sunscreen. That was a very effective way of getting the healthy message across!"
Elsewhere, Abbeycroft Leisure's rowing machine put the visitors through their paces, while the youngsters taking part in the football tournaments got the chance to take a tour of the Portman Road stadium.
Ellie added: "We wanted everyone to try something new and for parents to have fun with their children, so we can certainly call the day a big success."
Havebury chief executive Karen Mayhew thanked everyone for coming along on the day. She added: "The event was a really good example of how health and fitness can be fun, and hopefully everyone who came has been inspired to think about their own lifestyles."
Havebury, which has offices in Haverhill and Bury St Edmunds, is dedicated to serving both the existing and future housing needs of people in West Suffolk and the Cambridge sub-region. A charity and not-for-profit association, it currently manages 6,000 homes.
For more information about Havebury Housing Partnership, please call 08456 123 851 or visit www.havebury.com

Comment on this story
[board listing] [login] [register]
You must be logged in to post messages. (login now)