Housing provider rewarded for valuing its staff
Thursday, 31st May 2012.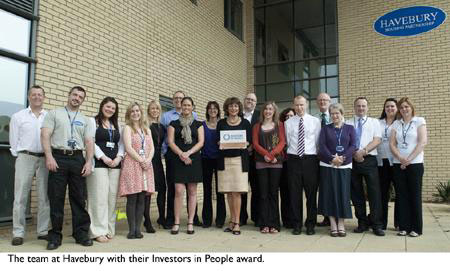 Haverhill's biggest housing provider Havebury Housing Partnership has been given an award which recognises how it treats its staff.
Havebury's culture of involvement and consultation with its staff has led to the presentation of an Investors in People (IiP bronze award after meeting 30 of the 33 requirements necessary.
The partnership was reviewed on several elements including equality of opportunity and management support.
In her report, the IiP judge praised Havebury for its 'very positive' support for learning and development and its 'supportive management style alongside flexible working [which] is greatly appreciated by everyone'
The report added: "People feel valued for their contribution through managers and senior managers thanking them for good performance, listening to their ideas for improvement…having their strengths utilised and having interesting and challenging work."
Chief executive Karen Mayhew said: "We were extremely pleased to receive such a good response from the Investors in People judge. We have been told that we have great potential to meet the criteria of the silver award in the future.
"As a housing association we are a people business, firmly committed to our team members as well as our tenants. As a result, we have a low staff turnover which means that our 6,000 tenants can be assured of a consistent, high-quality service."
She added: "We will be sure to work on the recommendations given to us by the IiP judge to aim for silver and gold awards in the future."

Comment on this story
[board listing] [login] [register]
You must be logged in to post messages. (login now)