How well do you know Suffolk?
Sunday, 6th January 2008.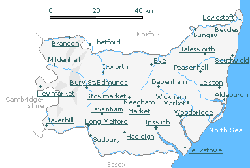 Suffolk is a county with a rich diversity and the county council is involved with a wide range of activities and services. But how well do people know the county where they live and work? The following questions offer a chance to test your knowledge of the county and the work of the county council.
The answers can be found below.
1.How many children's centres are planned to be built by Suffolk County Council by the end of March 2008?
a) 35 b) 30 c) 25
2.How many people live in Suffolk (according to the 2006 estimate)?
a) 680,020 b) 702,100 c) 720,500
3.How many firefighters are employed in Suffolk?
a) 808 b) 698 c) 918
4.How many libraries are there in Suffolk?
a) 50 b) 40 c) 70
5.How many countryside sites are managed by Suffolk's Countryside Service?
a) 28 b) 21 c) 25
6.How many household waste sites are there in Suffolk?
a) 14 b) 18 c) 16
7.How many schools are there in Suffolk?
a) 322 b) 381 c) 356
8. How many Suffolk county councillors are there?
a) 70 b) 80 c) 75
9.How many railway stations are there in Suffolk?
a) 15 b) 19 c) 23
10.How many museums are there in Suffolk?
a) 48 b) 38 c) 28
Answers:
1. a) The 35 centres have been built, or are proposed in Beccles, Bury St Edmunds, Felixstowe, Debenham, Great Cornard, Hadleigh, Haverhill, Ipswich, Leiston, Lowestoft, Mildenhall, Newmarket, Rendlesham, Saxmundham, Stowmarket, Sudbury and Thurston. www.suffolk.gov.uk/EducationAndLearning/EarlyEducationAndChildcare/ChildrensCentres
2. b) The estimated county population of 702,100 breaks down as follows - Babergh: 86,700, Forest Heath: 62,100, Ipswich: 120,400, Mid Suffolk: 92,000, Suffolk Coastal: 122,200, St Edmundsbury:101,900, Waveney: 116,800,
3. a) Of the 808, 180 are wholetime fire fighters, crew managers and watch managers, while 30 are wholetime flexi-duty officers (district, group and fire service managers included), there are 43 other officers, 444 retained fire fighters, 23 control Room staff and 88 non-uniformed support staff. There are four 24-hour manned stations, three with day crews and 28 manned by retained crews.
4. c) The figure of 50 takes in 44 library buildings and 6 mobile libraries. www.suffolk.gov.uk/LeisureAndCulture/Libraries
5. a) The 28 sites cover approximately 330 hectares and include local nature reserves, picnic sites, sites of special scientific interest and three country parks at Knettishall, Clare and Brandon. www.suffolk.gov.uk/Environment/CountrysideServices
6. b) The 18 household waste sites are at Fen Lane, Beccles, Somersham Road, Bramford, Rougham Road, Bury St Edmunds, Brome Industrial Estate, Brome, near Eye, Shotley Road, Chelmondiston, Carr Road, Felixstowe, Foxhall Road, Brightwell, Ipswich, Coakett Lane, Hadleigh, Coupals Close, Haverhill, Thetford Road, Ingham, Lovers Lane, Portman's Walk, Ipswich, Leiston, Hadenham Road, Lowestoft, Off the A1065, a mile from the fiveways roundabout, Mildenhall, Depot Road, Newmarket, Blyth Road, Southwold, Old Bury Road, Stowmarket and Sandy Lane Sudbury. www.suffolk.gov.uk/Environment/RubbishWasteAndRecycling and www.suffolkrecycling.org.uk
7. c) There are 356, of which 256 are primary schools, 40 middle schools, 38 upper/high schools, 9 special schools, 13 Pupil Referral Units and one is a nursery school. www.suffolk.gov.uk/EducationAndLearning/Schools
8. c) There are 75, of which 10 are in Babergh, 11 in Bury St Edmunds, 5 in Forest Heath, 13 in Ipswich, 10 in Mid Suffolk, 13 in Suffolk Coastal and 13 in Waveney. www.suffolk.gov.uk/CouncilAndDemocracy/CountyCouncillors
9. c) There are 23 - They are: Beccles, Brampton, Bury St Edmunds, Darsham, Derby Road, Elmswell, Felixstowe, Halesworth, Ipswich, Kennett, Lowestoft, Melton, Needham Market, Oulton Broad North, Oulton Broad South, Saxmundham, Somerleyton, Stowmarket, Thurston, Trimley, Westerfield, Wickham Market, Woodbridge. Young people get access to discounted public transport with Suffolk County Council's Explore card. www.suffolk.gov.uk/TransportAndStreets/PublicTransport/PassengerTransport
10. a) Information on all 48 museums can be found at www.suffolkmuseums.org. The museums are Aldeburgh Museum, Alfred Corry Museum, Beccles & District Museum, Bentwaters Cold War Museum, Brandon Heritage Centre, Bungay Museum, Christchurch Mansion, Clare Ancient House Museum, Dunwich Museum, East Anglia Transport Museum, East of England Military Museum
Easton Farm Park, Felixstowe Museum, Fishing Trawler Mincarlo, Gainsborough's House, Halesworth & District Museum, Haverhill & District Local History Centre, HMS Ganges Museum, Ipswich Museum, Ipswich Transport Museum, Lanman Museum, Lavenham Guildhall Museum, Laxfield & District Museum, Little Hall, Long Shop Museum, Lowestoft & East Suffolk Maritime Museum, Lowestoft Museum, Martlesham Heath Control Tower Museum, Mechanical Music Museum & Bygones, Mid Suffolk Light Railway Museum, Mildenhall & District Museum, Moyse's Hall Museum, Museum of East Anglian Life, National Horseracing Museum, Norfolk and Suffolk Aviation Museum, Orford Museum, Parham Airfield Museum, Rougham Control Tower Museum, Saxmundham Museum, Southwold Museum, Southwold Sailors' Reading Room, Sudbury Heritage Centre and Museum, Suffolk Punch Heavy Horse Museum, Suffolk Regiment Museum, Sutton Hoo, West Stow Anglo-Saxon Village, Woodbridge Museum, Woolpit & District Museum.

Comment on this story
[board listing] [login] [register]
You must be logged in to post messages. (login now)