Impressive field for golf club's pro-am
Tuesday, 31st August 2010.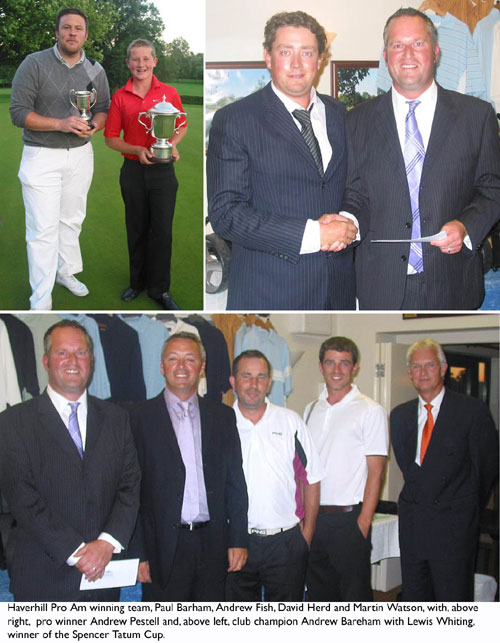 Haverhill Golf Club hosted its East Region Pro-Am on Monday, August 23, and there was an impressive field of 132 amateurs, with 44 professionals from across East Anglia.
A new course record was also up for grabs, with the extended second and seventh tees both in play for the first time this year.
Winning the rofessionals' competition, with a gross score of 64 was Andrew Pestell of Chelmsford Golf Club. Unfortunately due to the appalling weather conditions, the competition was played with preferred lies, so sadly Andrew's score would not count as the new record.
In joint second place with a score of gross 66 were Andrew Cotton of Ufford Park Hotel Golf & Spa and Paul Simpson of Luton Hoo Golf and Spa. The winning team, scoring -16, was Team Professional Paul Barham of Stock Brook Country Club, Andrew Fish, David Herd and Martin Watson.
In second place were Team Professional Andrew Cotton of Ufford Park Hotel Golf & Spa, John Banks, Tony Clifton and Tim Brinton, and in third place Team Professional Mark Stokes of Rayleigh Golf Range, David Carne, Po Lee and Phillip Searle.
On behalf of the golf club, Paul Wilby thanked the following sponsors: Greene King, Willow Business Centre, Specialized Print, Stylize Graphics, Chris Vince (Ware Rover) and M J Pipe Ltd, for their valued support, together with the PGA officials and volunteers for assisting with organising the event on the day.
The Junior CAB Edwards Club Championship was played on Tuesday, August 24. Winning division one (medal) for handicaps 0-14 was Lewis Whiting with a gross score of 85-78=163 with runner-up Richard Boyles 85-85=170.
Winning division two for handicaps 15-36 was Mitchell Davis with a nett score of 131. Runner-up with a nett score of 138 was Ellis Brown.
On Wednesday, August 25, the IFF Challenge was played. Haverhill junior Ellis Brown won overall with a fantastic score of 78-15-63 and in the process reduced his handicap to 13.
The full results were: Division One, 1 Michael Perrett 80-12-68; 2 Dave Humphreys 79-10-69; 3 Liam Merritt 79-10-69.
Division Two, 1 Ellis Brown 78-15-63; 2 Julian North 80-14-66; 3 Trevor Broomfield 83-16-67. Division Three, 1 Martin Mansfield 92-21-71; 2 Barry Shuter 96-21-75; 3 Derek Olive 101-26-75.
The seniors played two matches last week, on Tuesday they lost away to Lords Notleys 5½-2½, but turned the tables with a home win against Cambridge Menzies on Friday by 5½-2½.
Haverhill's club championship, comprising the F Johnson Cup (scratch, handicaps 0-16) and Spencer Tatum Cup (scratch, handicaps 10-18) was played over two rounds.
Winning the F Johnson Cup, in extremely windy conditions, and for the third year in succession was Andrew Bareham with 76+75=151.
In second place was Gary Liddle 76+78=154 and in third place Sam Palmer 79+78=157.
Haverhill junior, Lewis Whiting, continued his recent form by winning the Spencer Tatum Cup for the 10-18 handicap category with a very creditable 81+80=161.
In second place was Robert Rudge 84+82=166 and in third place Edward Fairhead 83+85=168.
Finally, Paul Houchen claimed the official new course record with a gross 74, for his morning round.
On Bank Holiday Monday The Keith Brown Classic was held, as a stableford event open to all sections of Haverhill Golf Club.
Winning overall with 41pts was Andy Softley, who has subsequently had his handicap reduced by two to 11. In second place was Richard Parker with 40pts and in third place vice-captain Keith Brown with 39pts.

Comment on this story
[board listing] [login] [register]
You must be logged in to post messages. (login now)