Impressive field of 124 golfers for Captain's Drive-In
Wednesday, 6th April 2011.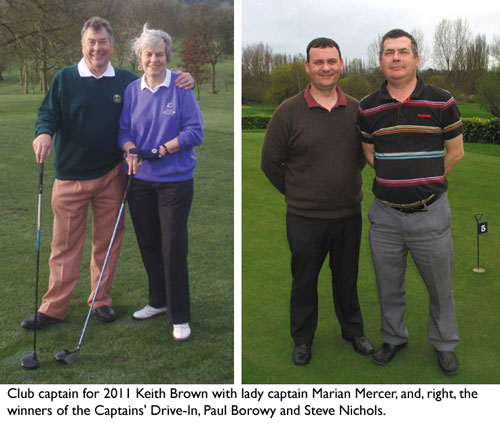 The Captainsí Drive In took place at Haverhill Golf Club on Saturday, April 2, hosted by club captain for 2011 Keith Brown and lady captain, Marian Mercer.
There was an impressive field of 124 taking part in the pairs better ball stableford event and the day was a huge success.
The competition for first prize was very close, but Steve Nichols and Paul Borowy came out the winners with 46pts.
In second place were lady vice-captain Doreen Darbey and vice-captain Steve Ward with 45pts and in third place Darragh Whelan and Dean Cornelius with 44pts.
The prize for the best juniors went to Stephen Boyles and James Higham with a score of 40pts. The prize for the best front nine went to Mick Warren and Lyndon Brown with 24pts and for the back nine Eamonn Bareham and Graham Ashcroft with a score of 22pts.
The longest drive for men went to Ted Fairhead and for ladies Pat Kennedy. Nearest the pin for men went to Eamonn Bareham and for ladies to Pauline Calmet.
After the prize presentation, Keith announced that he would be selling Ďseason ticketsí for the Captainís Bunker, which will be donated to his chosen charity, Alzheimers, at the end of his year.
Keith and Marian went on to thank all their family and friends who volunteered with running the day, and both captains look forward to their year ahead.
The final of the Menís IFF Challenge was played on Wednesday, March 30, with the field comprising all the IFF Challenge division winners throughout the 2010/11 season.
Chris Vince secured the victory by just one shot with an impressive 72-3-69 from second place Andy Fish 74-4-70, who just edged out Eric Kiddle on countback with a score of 79-9-70.
On March 31 the last meeting of the Winter Alliance was held, where 58 players, including eight professionals, enjoyed the excellent conditions of the course at Haverhill.
The day started with fine rain which soon cleared away, but was replaced by very high winds. The professional prize was won by Warren Goddard of Waldringfield with a one over par score of 71.
The Four Ball Better Ball Stableford was won by the pairing of Warren Goddard and Russell Rayner (both of Waldringfield) with a score of 43 pts. In second place were Glen Davis and Bill Darling with 42 pts (Waldringfield & Stowmarket) on countback from third-placed Peter Webb and Gerry Markham with 42 pts (Newton Green & Rushmere).
Haverhillís Darragh Whelan topped the season-long Merit Sweep. The next event will be held at Rushmere Golf Club at the beginning of October.
The first match of the 2011 Curry Cup was played at Haverhill on Sunday, April 3, drawn at home against The Essex.
The morning foursomes saw Haverhill use the home advantage and they went on to consolidate their performance in the afternoon singles matches, where the overall result was a win for Haverhill 11-7.
The full results were: morning foursomes (Haverhill players first) Andy Fish & Jack Warwick won 2&1 against Warren Grace and Daniel Riley Bourne; Lee Chandler & David Pipe won 7&6 against Stuart Shaw & Neil Anderson; Dave Whiting & Lewis Whiting won 7&5 against Mark Hanley & Chris Edwards; Graham Ashcroft & Liam Merritt won 1 up against Jamie Messenger & Paul Nalton; Julian North & Stuart King lost 3&2 to Aaron Collins & Michael Springett; Dan Wilkins & Ted Fairhead halved the match with Glen Swift & Kevin Wheeler.
The afternoon singles match results were: Jack Warwick halved the match against Neil Anderson; Lee Chandler lost 3&2 against Darren Grace; Andy Fish halved the match against Daniel Riley Bourne; Lewis Whiting won 7&5 against Chris Edwards; Dave Whiting halved his match against Mark Hanley; Julian North lost 5&4 against Jamie Messenger; Stuart King won 2&1 against Paul Wolton; Liam Merritt won 2&1 against Aaron Collins; Dan Wilkins lost 4&3 against Michael Springett; Ted Fairhead lost 2&1 against Glen Swift; Graham Ashcroft won 2&1 against Kevin Wheeler.

Comment on this story
[board listing] [login] [register]
You must be logged in to post messages. (login now)